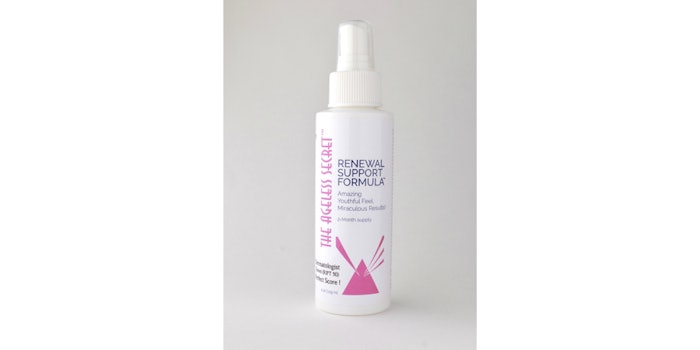 The Ageless Secret Renewal Support Formula is a mist that aims to support the skin's 28-day facial renewal cycle and slow the signs of aging. 
The product, which retails for $89.95, contains USDA-certified organic aloe, extract of cranberry, orange peel, lemon peel, bilberry, sugar cane, sugar maple extracts, Co-Q10, vitamin E, vitamin A, vitamin C, alpha lipoic acid, vitamin B3, vitamin B5, hyaluronic acid, rice peptides, Niacin, Ho Shou Wu (a popular anti-aging herb in China) and helichrysum italicum. 
The company suggests that users apply the product to one palm (eight sprays in the morning and seven sprays at night). Next, the product is applied to the face with fingers by spreading and pressing into face, neck and upper chest, any excess can be applied to the hands. The company then suggests using a blow dryer on mild heat to enhance the skin-tightening effect.