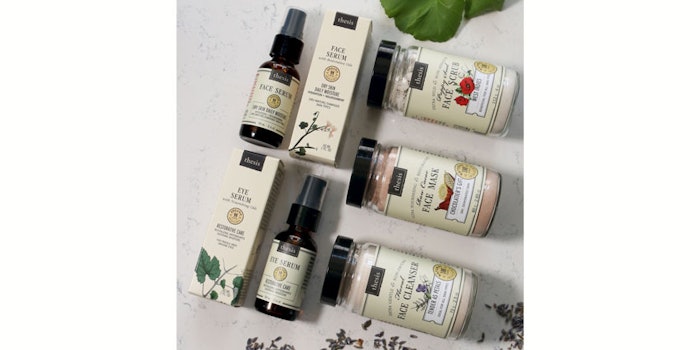 Thesis Beauty, a skin care brand that offers vegan and cruelty-free products made from all-natural and organic ingredients, wants to show skin a little love during the cold-weather months with its mix-your-own powder face masks and scrubs. 
According to Thesis, its facial masks and scrubs provide "intense nourishment and help restore natural elasticity... masks contain premium natural clays and are designed to soothe and heal skin." 
Julia Teren, founder of Thesis Beauty, explained she created the brand after failing to find products that were vegan and environmentally-friendly but didn't break the bank. 
Powder masks and scrubs include:
Facial Mask Chocolatier's Gift ($22.95) is meant to give dry, dull, damaged, irritated skin a glowing, smooth, beautiful complexion. Ingredients include organic raw cacao, oats, orange peel, allspice, cloves, kaolin clay and Moroccan rhassoul clay

Facial Mask Mermaid's Cheek Seaweed ($22.95) is meant to clarify and invigorate the skin's complexion as well as build its protective barrier against sun damage, elements, pollution and aging. Ingredients include organic sea kelp, spinach, chlorella, aloe vera, kaolin clay and French green clay. 

Facial Cleanser Tender as Petals ($20.95) is meant to cleanse and clarify the skin without irritation or stripping it of its moisture. Ingredients include k

aolin clay, Moroccan rhassoul clay, o

rganic chamomile flowers, calendula flowers, lavender flowers and oats.

Facial Scrub West Indies with Organic Poopy Seeds ($22.95) is meant to remove dead skin, purify pores and prevent breakouts. Ingredients include

 kaolin clay,


organic poppy seeds, rosehips, orange peel, allspice, French green clay, Moroccan rhassoul clay, baking soda and cloves.