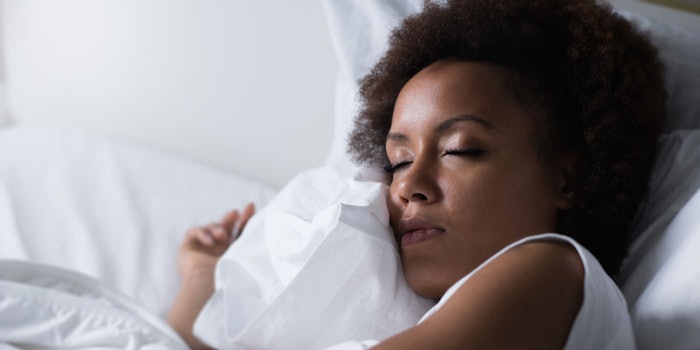 British consumers got plenty of beauty sleep over the past year. The sale of prestige nighttime skin care products grew by 7% and the market value for nighttime skin care reached £43 million, in the period from October 2017 to the end of September 2018.
According to The NPD Group, consumers are adopting a targeted approach to nighttime beauty rituals and adding more steps to their regime, including facial oils, creams, gels eye masks, eye creams and anti-aging wrinkle creams. NPD attributes these expanded rituals to the "self-care" and "me-time" trends. 
NPD also found:
Anti-aging night skin care increased by 9%;
Nighttime eye treatments (including eye masks and eye creams) increased by 14%;
Evening facial gels increased by 12%; and
Facial oils (including night concentrates) increased 4%.
During the Summer 2018 heatwave in the U.K. (June-August 2018):
Facial products designed to work overnight grew faster than the total facial skin care market, increasing 9% versus 6% (for the whole market);
Nighttime anti-aging skin care increased by 10%; and
Night eye treatments increased by 35%.
June Jensen, director, NPD UK Beauty says, "The market for night time skin care is definitely booming. Sleep is such a big topic amongst consumers and it appears that many people are suffering from a lack of sleep. Whilst sleep experts provide top tips on how to get to sleep, it's the beauty brands who are delivering their technical expertise with innovative products and the latest scientific formulas to work on the skin overnight."
Jensen added, "2018 certainly is the year of sleep. Nighttime beauty rituals are now an established part of the skin care regime. It has been said that staying in is the new going out and it appears from the data that beauty consumers are embracing this trend. Anti-aging products and night creams have always been an established part of the nighttime regime, but it's new categories like eye masks and eye creams, plus night gels and facial oils that are really boosting the nighttime skin care market. We believe this trend will continue as we are going into the darker periods of the year."