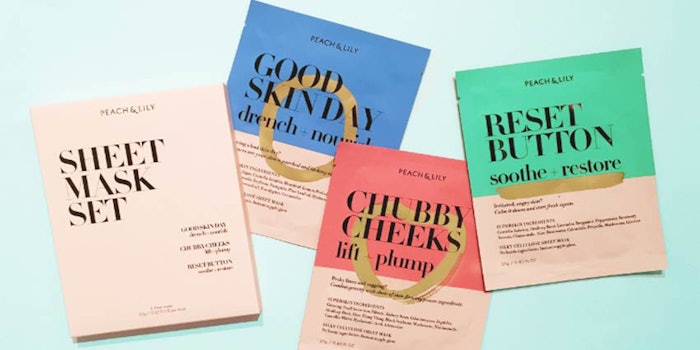 As Peach & Lily founder Aicia Yoon noted earlier this year, "We're launching our own branded Peach & Lily products this year (stay tuned), which we've been working on for the last 18 months."
Now, the retailer and brand has announced that it has launched three sheet masks and will "curate special Korean beauty collections for many U.S. retailers, including Macy's, Sephora, QVC, Anthropologie and Target."
The masks comprise cottonseed fiber-derived cellulose material that is reportedly "comfortable, breathable, lightweight and thin," and allows for high ingredient absorption for ingredient delivery.
"These are the ultimate dream sheet masks and we can't wait to share them."
The masks retail for $6, or $15 for a set of three, and include:
Good Skin Day, which offers skin hydration
Reset Button, which soothes the skin
and Chubby Cheeks, which includes collagen-boosting firming ingredients.
The range is debuting at 50 Macy's stores and on the retailer's website.
"We are pleased to announce that Macy's will carry the Sheet Mask Collection from Peach & Lily at 50 locations as well as macys.com," said Richard Zappala, omni buyer, impulse skin care for Macy's. "These masks will be a great addition to our assortment while bringing our customers the best in Korean skin care innovation."
"We listen very closely to what our customers want and are very engaged with their needs," said Yoon. "The launch of our own Peach & Lily brand sheet masks is in response to our skin-savvy customers' wish list – gentle, yet potent formulations, packed with super skin friendly ingredients designed to deliver glowing results. These are the ultimate dream sheet masks and we can't wait to share them."