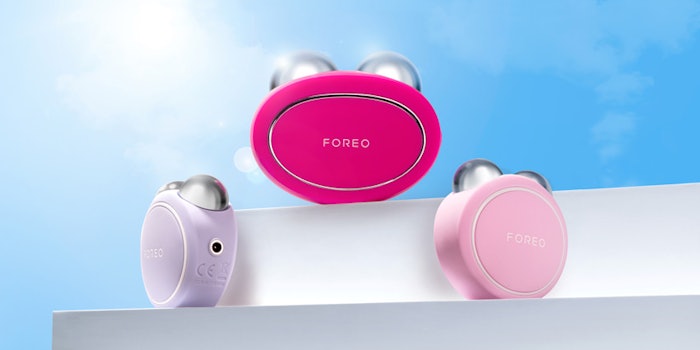 Foreo has kicked off its #FaceUrStrength campaign with the launch of its new microcurrent devices, Bear and Bear mini, in partnership with Tik Tok star Sheri Nicole that focuses on the empowerment and importance of kindness through personal storytelling on the social media platform. 
Previously: 6 Ways to Reinvent Marketing in a New Era
According to the company, Sheri Nicole will show fans how to stimulate their facial muscles using the device. In addition, other content creators will showcase the device and host giveaways. 
The Bear device is said to tone the skin for a more youthful and contoured complexion with its T-sonic pulsations. The stimulating microcurrents help to build collagen, repair elastin, and tighten and tone via electrical currents that mimic the body's own natural regenerative process. Exercising more than 65 muscles in the face and neck, the T-sonic pulsations also relax the facial muscle tension points, and smooth the appearance of fine lines and wrinkles. 
Its Anti-Shock System uses ultra-smart sensors to scan and measure the skin's resistance to electricity at a rate of 100 times per second. Once that is done, it automatically adjusts the microcurrent in two micrseconds to best suit your skin.
"We at Foreo have designed this product range that couldn't have come at a better time where conscious consumers are taking skincare into their own hands," says Beki Hoxha, chief business offer, Foreo. "The power and portability of Bear and Bear mini are undeniable but even greater than that is our underlying brand purpose to empower men and women of all ages and skin types to share their unique experiences. It's not about selling products but teaching and highlighting these relatable stories, making genuine connections, and promoting individuality."