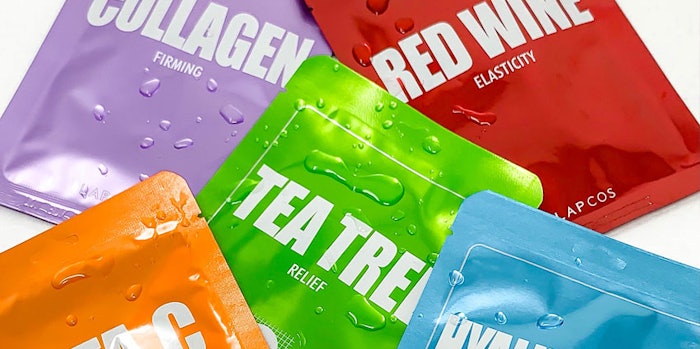 K-beauty brand Lapcos has launched five of its sheet masks at 3,500 CVS locations nationwide.
Previously: Emily Ratajkowski Named Partner & Creative Director of Loops
Products include:
Vita C Vitality Daily Sheet Mask: Enhances the skin's natural glow while protecting the barrier from environmental aggressors like sun damage and pollution.
Collagen Firming Daily Sheet Mask: Revives the skin and evens complexion to reduce the appearance of wrinkles and fine lines.The hydrolyzed collagen ingredient assists the skin with firming and rejuvenating the skin.
Hyaluronic Acid Moisturizing Derma Sheet Mask: Replenishes the skin's appearance and keeps it hydrated and moisturized.
Tea Tree Relief Derma Sheet Mask: Calms and smooths the skin. The tea tree extract ingredient helps the skin to be cleansed deep into the pores and soothing
Red Wine Elasticity Daily Sheet Mask: Boosts the skin elasticity and restores hydration for a smooth complexion. The wine extract allows the skin to fight aging by restoring collagen into the skin.
Key ingredients include: Hyaluronic acid, collagen, niacinamide, wine extract