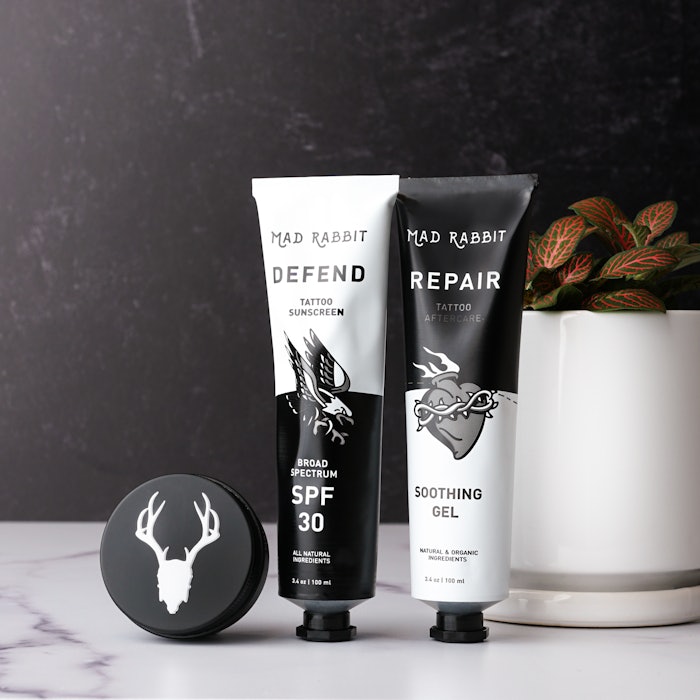 Mad Rabbit has announced it is the exclusive tattoo aftercare brand for Inked, both the magazine and store.
Previously: KVD Beauty Appoints Director of Tattoo Artistry
The partnership includes a three-year digital media deal between Mad Rabbit and Project M. 
Mad Rabbit will become the only tattoo aftercare brand available at the Inked flagship store in New York City.
Sami Hajar, creative director of Inked Magazine, said, "Inked is thrilled to be partnering with Mad Rabbit. Their line of tattoo balm, sunscreen and soothing gel guides you through the healing process and beyond, making sure your tattoo is something you'll be proud to wear for many years to come. With leveraging both their brand's premier products and our expertise and reach within the tattoo culture and beyond, our aim is to grow and own the aftercare space."
Oliver Zak, co-founder of Mad Rabbit, said, "Partnering with Project M Brands and Inked Magazine is such a critical milestone for us.  t helps us not only partner with the most respected media company that has built their entire success through music, fashion, art, sports and the lifestyle of the tattoo culture, but also allows us to pioneer a new vision to tattoo skin care both digitally and offline."
Selom Abitor, co-founder of Mad Rabbit, said, "When building Mad Rabbit, becoming the number one tattoo aftercare brand and providing the best performing products that really address our consumer's needs, has always been our north star. We're constantly inspired by our community, from artists to enthusiasts, and it is our mission to help preserve their beautiful ink for years to come."