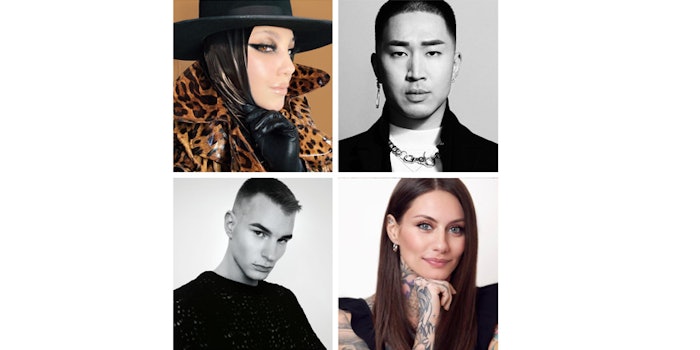 KVD Beauty, which recently unveiled its brand refresh, has announced its first global director of tattoo artistry, Miryam Lumpini.
Lumpini will serve as the brand's in-house tattoo artistry expert, supporting creative initiatives by developing tattoo-inspired designs for marketing and product, and creating makeup artistry content.
Lumpini grew up in the Swedish countryside and immigrated to the United States to pursue her passion in tattoo artistry, eventually inking high-profile celebrities including Jhené Aiko, Keke Palmer, Kehlani and more.
KVD Beauty also revealed its world-class roster of global makeup artists, which includes Christian Schild (Germany), Fanny Maurer (France), Sandra Saenz (United States), and Anthony Nguyen (United States).
The group of artists will be leveraged across various platforms to share their skill set with clients and media alike. Each artist will work closely with the brand for press features, photo shoots and editorial, teaching global master classes, creating exclusive content on the brand's social media channels, and more.
The new brand and marketing strategies are led by beauty industry veterans, Sarah Koch, senior VP and general manager for Kendo Brands, and Tara Loftis, global VP of marketing and public pelations for Kendo Brands.
"Collaborating with KVD Beauty has been a dream come true," Lumpini says. "I have been a follower of the brand since the very beginning—it made tattoo culture more acceptable and encouraged the community to see it as a form of self-expression. There used to be a stigma associated with tattoo culture, and you were seen as a rebel if you had any. KVD Beauty recognized this as an art form and embraced this community of artists like myself that were typically overlooked in the beauty industry."
Nguyen says, "Makeup has served as my creative outlet for storytelling and with the versatility of KVD Beauty products, the possibilities are endless. I'm beyond excited to partner up with KVD Beauty as this year's global veritas artistry ambassador, can't wait to share and create art with you all."
Loftis says, "KVD Beauty has a near 13-year history of creating incredible, award-winning, bestselling products—now is simply the time for us to revitalize the brand and reconnect with our consumers in a genuine way. This is the beginning of an important chapter, and it was critical for us to design a disruptive marketing plan, while aligning with top-tier, best-in-class artistry talent that reflects and respects our brand heritage in both tattoos and makeup."
Koch says, "As our consumers and the beauty industry continue to evolve, so does KVD Beauty's legacy. The updated crest and campaign imagery reflect a new phase for the brand, one where we champion artistry without limits, celebrate the individual, and care for the planet. We are looking forward to sharing our new imagery, artists, and products with the world."