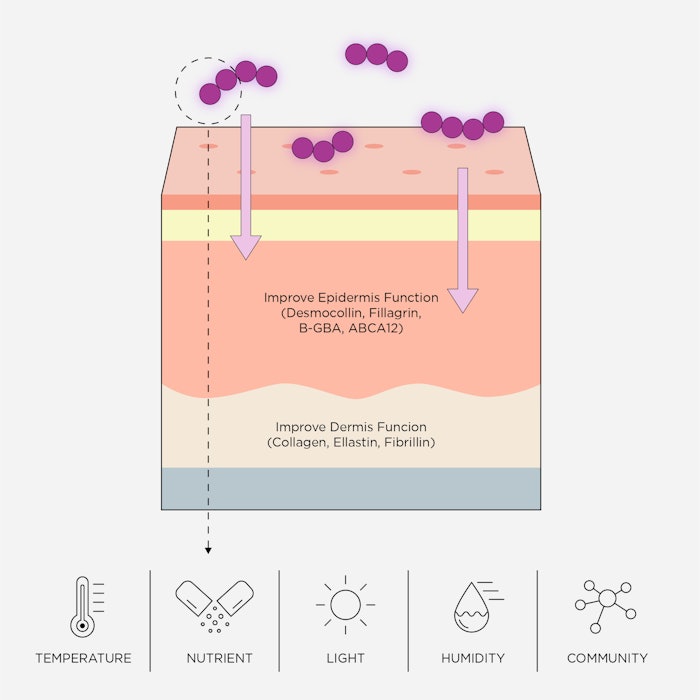 Korea-based Cosmax is touting the development of what it calls the "second-generation skin microbiome," Rappoilot, for anti-aging, which derives from novel microorganisms found on infant skin. Per the company, the genetic difference between these recent microorganisms and those it identified in 2019 is greater than 10%.
In 2019, Cosmax launched products containing its initial microbiome complex, called Strain CX, which was discovered on young women's skin. These microorganisms reportedly activate beneficial bacteria and maintain clear skin.
In more recent research, the company analyzed the skin of 1,000 Korean babies and children with high skin firmness and barrier density, uncovering a new group of microorganisms.
Report: Microbiome Anti-aging
The efficacy of this new strain is reportedly more balanced in all areas of the skin's condition, including lipid synthesis, skin firmness and skin barrier reinforcement.
In applications, the technology can boost aging-related concern, as well as skin barrier defense, hydration and tone improvement, per Cosmax.
The new strain will be trademarked and commercialized and is set to be researched in the International Journal of Systematic and Evolutionary Microbiology.
Cosmax's new AI algorithm, SKIMInet, was developed using the genetic information collected from the 1,000 test participants. The system is designed to analyze skin environment elements and genetic data, allowing brands to input consumer skin data for analysis and product development. 
Lee Byung-man, president of Cosmax, said, "Cosmax did not stop at pioneering the skin microbiome market. We continued extended studies to create research outputs as well. Within the next five years, we will build a skin microbiome research roadmap to endeavor as a leader in the field."