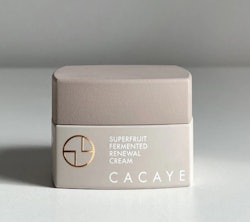 Cacaye is a new anti-aging brand pairing lab fermentation with Amazonian cacay oil, which reportedly contains high levels of omegas 3, 6 and 9, and, due to its healing properties, it has been used traditionally as an emollient, in the treatment of skin irritations and burns, and for wound-healing/cicatrization processes. It notably also features anti-aging properties.
The brand was conceived by creative agency Evoq Brand Lab to "purify and condition" the skin's microbiome and thereby improve the appearance of lines, wrinkles, tone, dehydration, dark spots, irritation and sensitivity without an oily or sticky finish.
Cacaye leverages fermentation to break down its botanicals for enhanced potency and absorption and a richer concentration of skin nutrients and amino acids.
The Cacay + C Fermented Cleansing Oil ($42) features what the brand calls PurFerm Extract (featuring fermented angelica root and green tea seed) and CitraC 3 Complex (a vitamin C and citrus complex) to improve elasticity, soften wrinkles and promote radiant skin.

The Superfruit Fermented Renewal Cream ($65) features FermenFruit (a blend including fermented kakadu plum, baobab fruit and avocado) and ReVita-D (a blend of coffee oil and living stone plant stem cell extracts) to reduce the look of fine, dry lines.

The Cacay + C Fermented Brightening Oil ($75) is designed to brighten, firm and hydrate skin and features PurFerm Extract and CitraC 3 Complex to improve

 elasticity, soften wrinkles providing antioxidant protection.
All SKUs are sold exclusively through the brand's website.
In addition, the brand donates "a portion" of proceeds to Look Good Feel Better and, in the spring of 2023, will donate products to the organization.
"Our formulation process for Cacaye is rooted in our unwavering commitment to deliver the optimal impact using nature's most potent and proven ingredients," said Annette Falso, Cacaye's head of innovation and brand (formerly of Revlon and Chanel). "By joining miraculous cacay oil with expertly curated fermented botanicals, Cacaye is focused on delivering high-powered products that set a new standard for what skincare can accomplish." 
"Cacaye represents our vision for the future of skin care–a union of breakthrough formulation techniques and deep knowledge of the world's botanicals," said Karl Obrecht, Evoq Brand Lab's CEO (formerly of P&G and Revlon). "Through our revolutionary approach and by realizing the full potential of each ingredient, Cacaye offers maximum results rooted in the power of nature, which we are excited to bring to the skin care consumer."