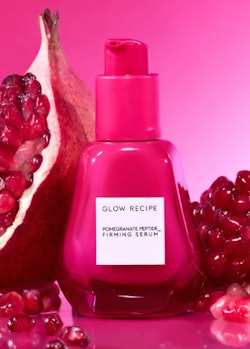 Glow Recipe/e-commerce
Glow Recipe will soon launch its new Pomegranate Peptide Firming Serum, which reportedly imparts a hydrated, lifted appearance.
The serum is designed to offer cross-generational care to address the appearance of fine lines and wrinkles while imparting a lifting and firming appearance.
The formulation comprises polypeptides to improve skin firmness while repairing the skin, as well as strengthening and elasticity-building pomegranate seed oil. The oil also soothes and tightens the look of skin, per the brand.
The formulation also includes hyaluronic acid.