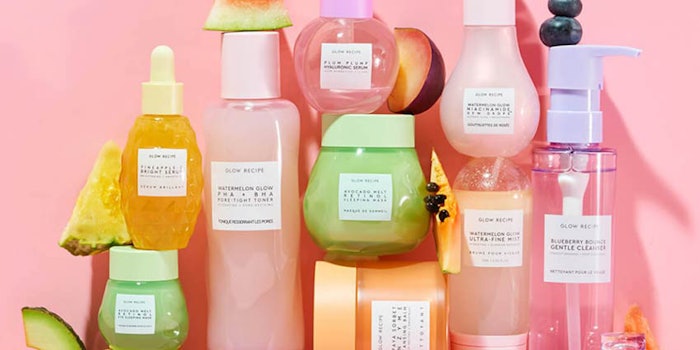 North Castle Partners has invested an undisclosed amount of money into Glow Recipe, which was recently tapped by Kline as a top beauty acquisition target.
"This is the first investment by North Castle in a beauty and personal care brand since Rich Gersten rejoined the firm as an industry adviser in 2020," the firm noted. 
Capital from this investment will support Glow Recipe's continued growth, marketing, new product innovations and key hires. Gersten will represent North Castle on Glow Recipe's board of directors.
Event alert: Rich Gersten of True Beauty Ventures/North Castle discusses what makes for an investment-worthy brand.
Glow Recipe launched in 2014, delivering Korean skin care products, and has since expanded into Sephora in the United States, Southeast Asia and the Middle East, Cult Beauty in the United Kingdom, and MECCA in Australia.
"We are thrilled to have Glow Recipe be the first beauty brand investment for North Castle Partners since I rejoined the firm last year," said Gersten. "The growth momentum of the business and the strong potential for the brand to expand its product assortment and global distribution position Glow Recipe favorably for long-term success."
"Rich and the team at North Castle have decades of experience building and scaling consumer businesses," said Glow Recipe co-founder, Christine Chang. "In addition, their 'value and values' approach complements our strategy of aligning our company with a partner who is equally dedicated to evolving our business during this next chapter while also preserving the core values of our brand and the entrepreneurial spirit that has independently fueled our business since inception."
Sarah Lee, co-founder of Glow Recipe, added, "The North Castle team, along with its deep bench of portfolio companies, brings tremendous industry knowledge and expertise to the table. This investment is a key milestone for Glow Recipe, and will allow us to accelerate key growth drivers such as product innovation, attracting world-class talent, international expansion, and doubling down on our community-driven approach to brand building."
"The foundation of the North Castle approach is to partner with exceptional entrepreneurs, management teams and industry professionals to unlock the full potential performance of companies in the healthy, active and sustainable Living sector," said Chip Baird, North Castle CEO and founder. "We are excited to support this team as they pursue their next level of success."