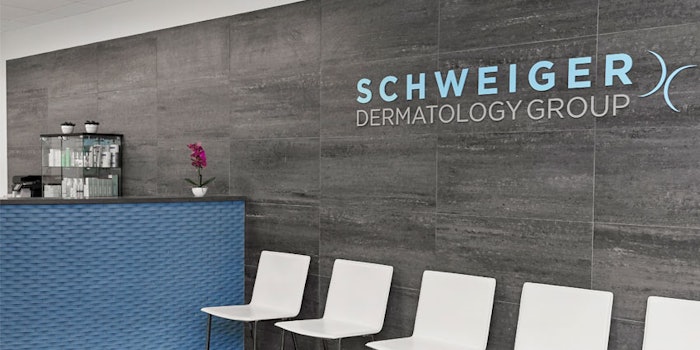 Schweiger Dermatology is setting the stage for medical-grade products to become trends with consumers and sellers, from general skin care to professional aesthetics. 
Since starting in 2010, Schweiger Dermatology has opened 72 medical offices in the Tri State Area (New York, New Jersey and Connecticut), which all include retail. The company has its own private label and carries premium dermatology lines that have undergone clinical trials, including Revision Skincare, Skinbetter Science, Elta MD and Skinceuticals. 
Previously: Converting Online Shoppers to In-store Customers
Megan Markiw, corporate operations manager of Schweiger Dermatology, supports the company's line and is a fanatical user of the products, which are vetted by dermatologists and other professionals in the practice.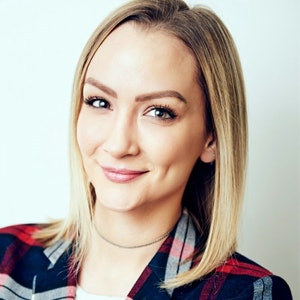 Who is your typical shopper? 
Megan Markiw [MM]: Our demographic is about 75% general dermatology, including everyone from 16 year olds with acne to senior citizens who want a cancer check. And 25% of shoppers come in for cosmetics, but this ratio is shifting.
We have a captive audience. We get them in the door. The challenge is that providers don't have a lot of time to sell. They are very busy seeing patients and selling is not always instinctive or the priority. It can sometimes be time-consuming trying to explain the technology to patients.
Where do your customers get their inspiration and information? 
[MM]: Shoppers can go to a beauty store or a spa, but who can you trust more than a medically trained provider who specializes in skin health?  
Decisions about what to carry in the stores are made by a product committee of physicians and other professionals. Doctors that want us to carry a product need to fill out a request form and they have to send research studies. We also need to make sure there is vendor support, including samples, returns, and education for doctors and staff. 
Schweiger needs a range that appeals to all kinds of people with all kinds of budgets.
What do you do to try to reach them? 
[MM]: We have an in-house marketing team to reach out to patients via email, social media, radio and print publications to promote the practice.
What is the benefit of a physician or esthetician recommending a brand? 
[MM]: A physician or esthetician recommending a brand benefits the brand because they have a reputable education and knowledge. Our patients trust their professional advice.  Dermatology ties the health aspect into the beauty industry more than any other segment.
How is your customer different from a typical retail customer? 
[MM]: Our customers are there to talk about skin care with doctors who can explain and recommend a complete regime. Our customer isn't the customer who goes in to buy one product. Our customer is very focused on results and buying intentionally versus. on a whim.
What types of products do they turn to you for? 
[MM]: Right now, doctor-recommended brightening products are the fastest growing category, as well as antioxidant serums, growth factors and retinol. We're also seeing a lot of glycolic pads being purchased.
How do you influence shopping trends? 
[MM]: We are not trend-based. Procedures influence product trends [such as]. Kim Kardashian and vampire facials. Microneedling is still in high demand.
Products that start selling more at Schweiger usually follow or pair up with a brand new injectable or procedure. For example, Qwo is an injectable to reduce the appearance of cellulite. This gets paired with Revision Bodifirm and products that maximize skin elasticity. 
Trends don't come and go as quickly in the medical [field]. It's not like buying soap or the latest eyeshadow palette. Some cosmetic procedures are big decisions and investments, but once you do them, you will need the products that make them more effective.
How has COVID changed your business? 
[MM]: Our offices were closed for two months, but that spurred us on to have an e-commerce site. 
Retail is not the core of our business. Most of our offices don't have a dedicated staff member selling products. Patients trust us and that's why they buy from us.
What do you look for from your brands? 
[MM]: We look for results-driven products and the latest technology;  we need the research. Some dermatology brands are getting more luxurious packaging, which helps get it in the hands of the right people and get patients to use them.
How can brands better support you and better succeed? 
[MM]: Every week, we have brands do educational webinars for our staff, including doctors. They need to show us clinical studies and research, educate our doctors and support our staff on the latest products.
Do you have plans for growth?  If so, what? 
[MM]: We are eager to launch our own e-commerce site in the near future.
Who do you think are the most influential celebrities among your customers?
[MM]: We don't make decisions based off of celebrities. Customers need to know about what they put on their skin. They should care and listen to providers with a medical education or medically-trained professionals, not Instagram models without the same expertise.