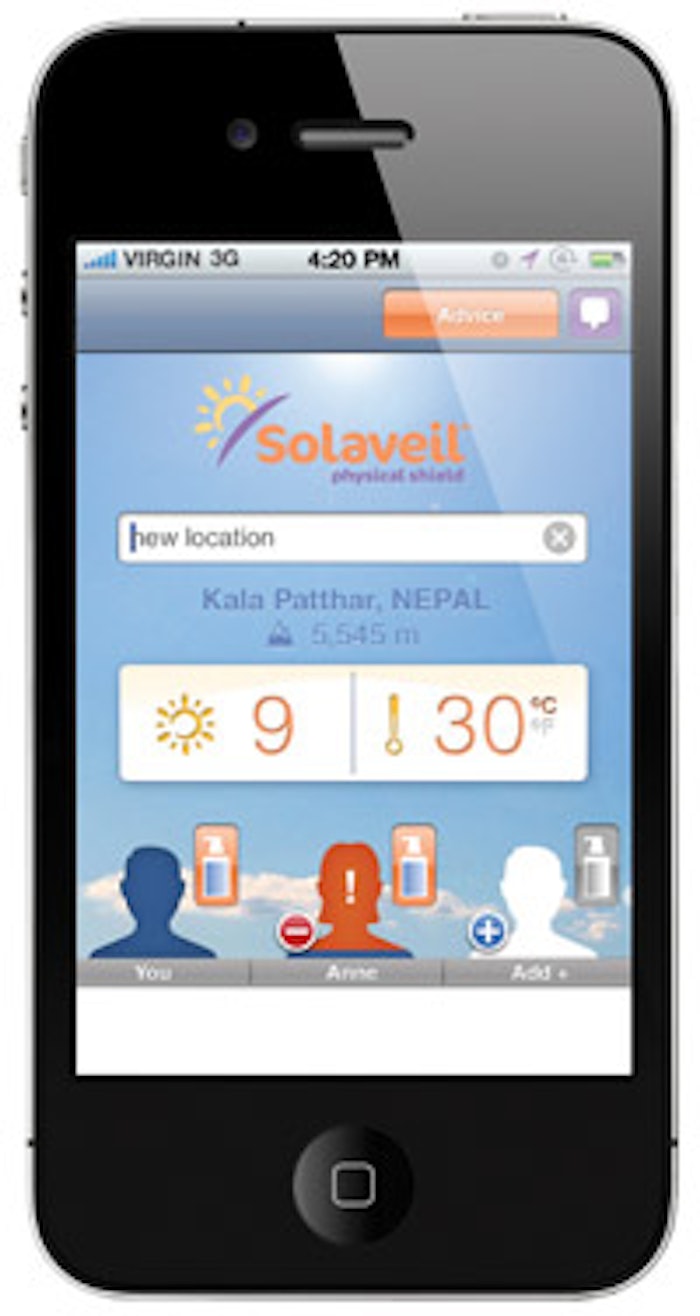 Apps are becoming today's must-have accessory, and beauty brands and ingredient suppliers are figuring out ways to utilize this technology to offer consumers more via their products and ingredients, as is the case with Croda's Solaveil Suncare app.
Finding that many U.K. consumers had misconceptions about proper sun care, Croda saw an opportunity to launch an app that would help correct that behavior, as well as promote its Solaveil product.
The Solaveil Suncare app also allows for sun care and beauty brands that use the Solaveil ingredient to cobrand via the technology, helping identify them with Solaveil's protection and keeping their products top of mind.
New apps come out every day, and digital devices are even more present in people's everyday lives. Add to that the fact that new research from the Interactive Advertising Bureau shows skin and sun care buyers are much more inclined to engage in online and mobile activities than the average adult, and the development of an app keyed into targeting and helping sun care consumers seems inevitable.
And that is just what Croda has accomplished. A new iPhone app, which alerts users to reapply sun cream or seek shade, has been launched by the ingredient supplier to help people protect themselves from the sun at home and abroad. The Solaveil Suncare app is a free app developed by Croda, which also created the active ingredient Solaveil. The app is offered to consumers by a wide range of sunscreen and beauty brands that utilize Solaveil.
The app combines personal user details such as skin, hair and eye color (which the user enters) with GPS data from the user's iPhone to detect their location for local temperatures and UV estimates, which enable bespoke alarms as reminders to reapply sunscreen or seek shade.
Croda launched the app, available free from the company's Solaveil Physical Shield Facebook page, to help global sunscreen users keep safe whilst enjoying the sun.
The app allows users to set up profiles based on their age, gender, skin tone, eye and hair color, and multiple profiles can be set up simultaneously so sun protection for the whole family can be administered from just one device. A complex algorithm establishes an SPF requirement for each individual profile, and with these SPF requirements, the app then takes into account the UV and temperature data at the current location—or at another specified location across the globe, for those planning for vacations or trips—and synchronizes with the iPhone's built in alarm function to produce profile-specific reminders for users to reapply their sun screen or seek shade.
These bespoke reminders also offer helpful sun care advice, giving each user on the app the most appropriate sun care advice for destinations across the globe, regardless of their skin tone.
Of this innovation, the Solaveil Suncare team says, "The app is geo-specific meaning wherever you are in the world, you can set a sun alarm reminder based on UV estimates, current temperature and your personal skin type. Multiple profiles can be set up on one device, too, enabling families to ensure every member is helped to keep safe in the sun and enjoy their summer. The app also tells you where you can buy products containing Solaveil, providing you with a link to [a brand] website, so you can stock up ready for your day out or annual vacation."
The Solaveil sun protection ingredient from Croda is used in leading sunscreen and beauty products around the world, including St.Tropez in the U.K., Bamse by CCS in Sweden, and Cristian Lay's luxury Soleil sun care brand in Spain.
Identifying the Need
The Solaveil Suncare App was launched after research by Croda showed that young adults are ignoring basic sun protection advice—with one fifth of 18–24-year-olds in the U.K. saying they would never wear sunscreen.
The poll of 1,000 U.K. adults revealed that messages surrounding sun care and the risks of skin cancer are being lost among the young. More than one fifth (21%) of 18–24-year-olds in the U.K. believed it was never important to wear sunscreen, contrasting with just 5% of U.K. 35–44-year-olds, who appeared to be the best educated.
Nearly one third (28%) of all U.K. 18–24-year-olds believed that you can spend at least one hour in the sun without applying sunscreen, while just 4% of over-65s in the U.K. believed the same. This is despite official recommendations stating that sunscreen should be worn at all times when in the sun, regardless of skin type.
Nearly one half (44%) of U.K. men confessed to getting sun burn at a sporting event or music festival, compared to just one third of U.K. women. Similarly, twice as many men than women thought you never needed to wear sun cream in the U.K. (15% as opposed to 7%). Twenty percent of men also thought you could spend at least an hour in the sun in the U.K. without applying sunscreen, but half that amount (11%) of women felt the same, showing far more men than women are not acting on sun care advice.
In general, Britons were shown to be ill-prepared for the summer, with two-thirds confessing that they had been "caught out" by the weather; they didn't pack sunscreen when they left the house as it was cold and cloudy, but then it became sunny and they subsequently got burnt or worried about burning.
Forgetfulness was also cited as the most common reason for Britons failing to take sunscreen with them when outdoors; 61% were careless and left it at home, contrasting with 15% who said the sunscreen bottle was too big or heavy to fit in their bags. Four percent even worried what others would think of them should they apply sunscreen in public and failed to take it outdoors with them as a result.
With smartphone technology now in the hands of half of the U.K. population and 1 in 5 people worldwide, an app that can help promote sun safety and tell users where they can buy Solaveil products was seen as a vital development to support the Solaveil brand with both consumers and customers.
Consumer Cobranding
Two years ago, Croda launched Solaveil Physical Shield, a cooperative marketing campaign for its Solaveil brand of inorganic UV actives. The aim of the campaign is to support Croda's customers in communicating the quality, performance and reliability of Solaveil Physical Shield UV actives. Cooperative marketing programs involving ingredient branding are an established method of enhancing the perceived value of finished products, with notable examples being Lycra in clothes and Intel in computers.
Croda explains, "Adoption of our Solaveil Physical Shield brand on finished products will effectively communicate the inclusion of the Solaveil UV actives to health and beauty conscious consumers. As a result, this will promote confidence and add value to our customers' sun and skin care products. Importantly, it will also support our customers in communicating the proven safety and mildness of inorganic sunscreens."
The key part of the Solaveil Physical Shield campaign is an educational website, www.solaveil.com, which provides a great deal of information about the importance of UV protection and guidelines as to what SPF to use, as well as illustrating the science behind Solaveil.
For those customers cobranding products with Solaveil Physical Shield, Croda also offers opportunities to connect with its growing social network of consumers, beauty industry bloggers and independent sunscreen experts, in addition to the iPhone app.
Additionally, Solaveil ingredient users can feature their range of products within the app itself with the geo-specific ads and clickable links direct to their website. Thus, technology is helping link healthy sun care options from ingredient to brand to consumer, all via the touch of a fingertip on a smartphone.
Helene Hine, marketing manager, sun care and biotechnology, Croda Europe Ltd., has 13 years' experience in the beauty and personal care industry, where she has worked in technical and commercial roles covering formulation, claim substantiation and marketing of skin, sun and hair care products. She has a first class MChem from University College London as well as a diploma in cosmetic science.