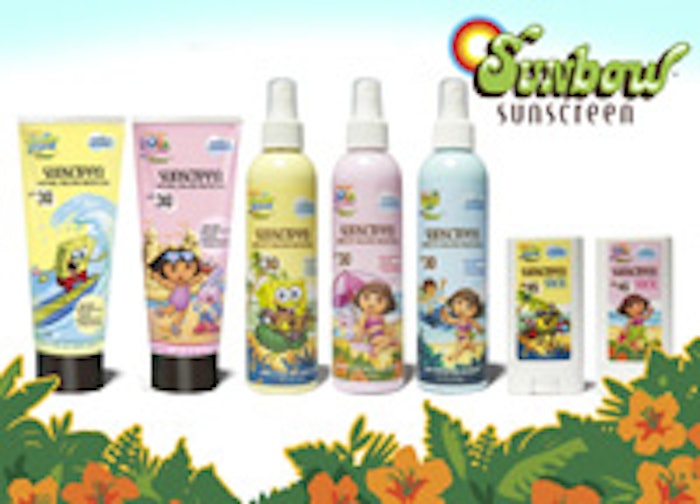 Recently, at the über-chic Mondrian SoHo's Imperial No. 9 in New York, I had the pleasure of having breakfast and getting the chance to mingle with fellow beauty bloggers, as well as the founders of Sunbow Sunscreen. Sunbow is one of the first-ever sunscreens that is uniquely marketed to children, versus being marketed to adults as for children, and this is one of the main reasons I decided to name Sunbow the breakout brand of the month.
Hailing from the music industry, company founders Andy Gershon and Joel Menzin have proved themselves clever marketers, linking up with kid-crazy Nickelodeon to design Sunbow's packaging. The design features some of Nickelodeon's iconic character brands, and with bottles and sticks displaying the visages of Dora the Explorer, Diego and SpongeBob SquarePants, how can a kid resist?
Not only does Sunbow feature a favorite Nickelodeon character on each product, but the actual lotion goes onto the skin in fun pink, blue or yellow colors. When it dries, however, it dries clear, making the application fun for kids, but not detrimental for parents.
What I love most about Sunbow is that the brand fosters education. Each product in the line features an almost-hidden gem of a fun fact on the back of each bottle or package. Parents can use this little tidbit of information to engage their child, teaching them something new as they bond on the beach or at the pool.
Designed with the health and well-being of children in mind, Gershon decided to develop Sunbow because of his young daughter, who hated the process of applying sunscreen. (Who can blame her, unless you have a tanning butler at the Ritz Carlton South Beach applying your lotion?) So, Gershon partnered up with Menzin and set out on a mission to develop a sunscreen that is easy and fun to apply, as well as being a sunscreen you only need to apple once.
Before they knew it, Gershon and Menzin had a three-product line: Sunbow Zinc Oxide Cream, Sunbow Sunscreen Spray and Sunbow Sun Stick. My favorite is the Dora the Explorer Pink bubblegum-scented Sunbow Sunscreen Spray, which, in addition to its yummy scent and enticing color, offers maximum coverage with minimum application time. The Sunbow Sun Stick is an innovative way to apply and a great option for the face. Just drop the SpongeBob Sun Stick in your purse or beach bag and you have an adorable, conversation-starting accessory handy for any time in the sun.
Sunbow also delivers a water-resistant, all-natural product, and the seven SKUs are formulated with micronized zinc oxide to provide a strong UVA/UVB barrier, without the chemical actives such as oxybenzone or octinoxate.
To learn more or pick up your child's favorite Sunbow products, log on to www.sunbowsunscreen.com. As an added bonus, use Sunbow's website to educate kids on the importance of applying sunscreen in a way that doesn't make it seem like a chore. The products are also available on www.drugstore.com to help keep safe from UV rays all day.