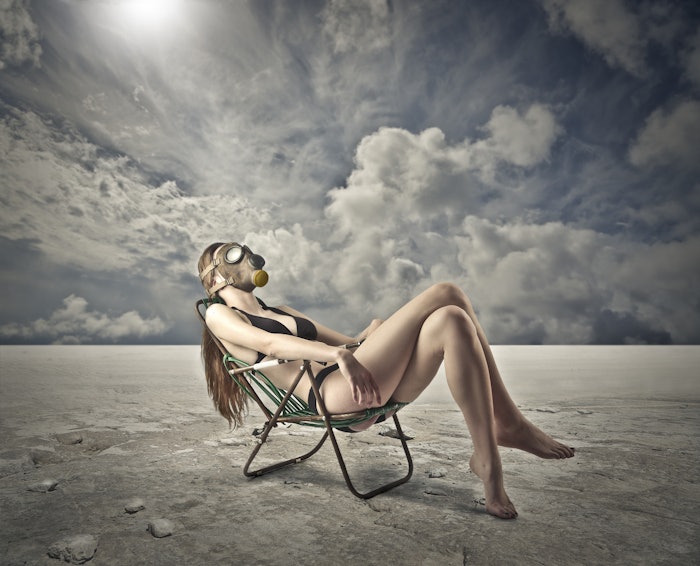 olly - Fotolia
Globally, recent skincare trends have seen a proliferation of launches which address the impact of environmental stress factors such as UV exposure and allergens. This is now expanding to include formulations which can counteract the impact of air pollution. While this trend originated in the Asian market, such claims are now making inroads in new regions such as those of the West.
Talk about this story @GCI_Magazine: #pollutionbeauty
Environmental Factors
Brands are increasingly considering anti-pollution claims for use in their formulations given the interest in products which can combat the effects of environmental stress, evident in the popularity of inbuilt sun protection. Studies have shown that there is a link between exposure to air pollution and uneven skin tone, pigmentation, loss of elasticity, wrinkles and premature aging.
This, combined with the fact that, according to the World Health Organization, 54% of today's global population is urbanized (compared to just 34% in1960), indicates that providing beauty solutions which can combat the environmental stress exposure of an increasingly urbanized consumer represents a high potential innovation area for brands to explore.
Consumer Interest
Given the global trend towards anti-aging products, as well as the rapidly growing interest in solutions which can prevent premature aging, anti-pollution formulations are likely to be well received by appearance conscious consumers. This is evident in that the majority of consumers globally start using anti-aging products between the ages of 25 and 34.
Additionally, almost 70% of consumers globally agree that spending less time in the sun can be effective in making them look younger (Datamonitor Consumer's Q2 global survey 2014). With studies showing that exposure to air pollution has a similar effect to that of UV rays, it is likely that, as awareness grows, such claims will be expected in anti-aging formulations.
Flos-Lek Laboratorium's Anti-Aging Gold Therapy illuminating eye cream, launched in Poland, claims to regenerate skin, features antioxidants to protect skin cells from the effects of lack of sleep, stress, and air pollution, while also providing moisturizing and anti-wrinkle properties.
Additionally, with exposure linked to issues such as pigmentation and uneven skin tone, targeted solutions which are specifically tailored to specifically protect against the impact of pollution on the skin and wider appearance are likely to be of interest to consumers. According to Datamonitor Consumer's 2014 global survey, a total of 31% of global consumers agree that they are concerned about dark spots, pigmentation and uneven skin tone.
Therefore, providing preventative treatments in the form of air pollution protection could be an important innovation avenue to consider. Innovation examples include Clarins Instant Light Radiance Boosting Complexion Base, launched in Spain, which protects skin from pollution while 3-D brightness pigments to "optically correct skin imperfections".
Multifunctional Protection
Brands can also capitalize on anti-pollution claims through the demand for multifunctional solutions as consumers seek out more effective, all-in-one products which can tackle a number of concerns. New claims such as "anti-pollution" represent a novel function which can be added to the arsenal of claims multifunctional products are including in their formulations.
This approach is already being harnessed by alphabet creams such as Origins Smarty Plants CC Complexion Corrector, launched in the U.S., which features an antioxidant infusion to neutralize the skin-damaging effects of smog and pollution. Additionally, multifunctional solutions can be an effective way by which to engage men with this claim by capitalizing on demand for more complex grooming solutions combined with the preference for a convenient and accelerated regime.
An example of this approach is Pond's Men Pollution Out, launched in Indonesia, which cleans and removes black spots and softens the skin, exfoliates to remove dead skin cells, and acts as a mask to absorb and remove dirt and dust caused by pollution.
Anti-pollution Hygiene
Aside from the cosmetic impact of air pollution, hygiene is also an important aspect to explore. Air pollution can result in the build-up of dirt on the skin. Therefore, positioning products which can effectively cleanse the skin from environmental pollutant particles could create a novel differential for hygiene brands.
An example of such innovation is Garnier Skin Naturals Light Complete Black Foam Cleanser, launched in Malaysia, which is designed to cleanse and purify the skin from dirt, oil and pollution.
Anti-pollution formulations represent high potential innovations to explore, and it is likely that in future such claims could become as highly demanded as sun protection as urban populations expand and awareness grows of the effects of pollution on appearance.
Bio
Jamie Mills is an Associate Analyst within the personal care and household sector at Datamonitor Consumer. Since joining Datamonitor Consumer over three years ago, she specializes in the personal care categories with a keen focus on the latest trends and their impact on current and future innovation.