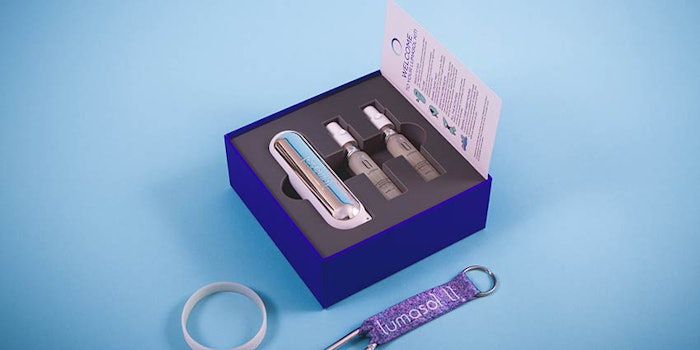 As discussed in the May 2020 edition of Global Cosmetic Industry, Lumasol has introduced a new broad-spectrum SPF 50 sunscreen mist that can be applied post-makeup. The bottle comprises an "engine" that dispenses the lightweight and fast-absorbing formulation. The formula is non-greasy to prevent breakouts and is water-resistant for 80 minutes. The packaging's engine, along with the package's wristband, change colors when exposed to UV light, reminding users to reapply "per the FDA recommended two-hour timeframe," according to the brand.
The Lumasol starter kit includes:
one reusable color-changing engine
three glass 10 ml vials of translucent SPF 50 formula
one lanyard and one color-changing wristband
The kit retails for $49 for standalone purchase; a three-refill replenishment kit option is available at $25 per month. For consumers who prefer the occasional one-time replenishment kit, the cost is $30.
In February 2019, Lumasol received $3 million in seed funding from Pathfinder at Founders Fund and Greycroft Ventures.
"The sun is an integral part of our lives, boosting happy hormone levels, and vitamin D, but it also has its negative effects," says Sophia Hutchins, founder, and CEO. "Reapplication is so essential but it's the part that falls off. Lumasol solves this to protect people and encourage protected sun exposure. While time outside these days is limited, we're still exposed to sunlight indoors, so it's important to keep a robust sun care routine. We believe that what Lumasol offers will appeal to not just health and beauty-conscious consumers, but the general public as well, keeping them safe, healthy, and beautiful."