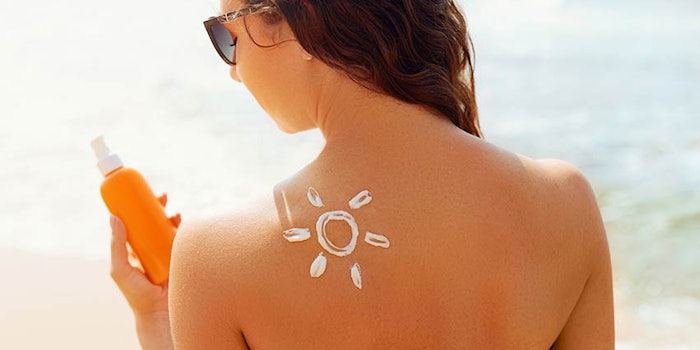 CeraVe conducted an online survey through OnePoll to uncover sun protection habits of 2,000 U.S. adults. Many respondents admitted to skipping sunscreen or avoiding reapplication due to the cause of breakouts, disruption to makeup and the product not blending with their skin tone.

Related: Sun Care's Next Chapter
While nearly half of survey respondents (47%) say they follow a daily skin care routine, 71% say they do not use a sunscreen daily. So, CeraVe sought to bolster its sun care line by offering products that can deliver both sun care and skin care like its Hydrating Sunscreen Sheer Tint, a sun protection face lotion.
Consumers often complain about sunscreen, with survey respondents citing a list of reasons they choose to skip daily application, including 55% citing how it feels during or after application and 24% saying that it causes breakouts.
Further, 38% of respondents cite a white cast or that sunscreen does not blend into skin as a point of contention, so CeraVe developed this product with a sheer tint that blends seamlessly into all skin tones. According to a consumer study, 90% of consumers agree that the Sheer Tint blends seamlessly into all skin tones.
Moreover, 32% of survey respondents said they'll dismiss sunscreen use if they're not planning to spend too much time outside in the sun, which is the case for many presently; but dermatologists like Michelle Henry, M.D., warn that sunscreen is just as important as ever, especially a formula with broad-spectrum protection.
Henry also emphasizes that sunscreen application should not be a one-and-done activity, though it all too often is. While the American Academy of Dermatology recommends reapplication approximately every two hours or after water exposure, 70% of survey respondents admit that they do not reapply every two hours.
Additionally, 28% say they do not reapply sunscreen as they do not want to mess up their makeup, further underscoring how the Sheer Tint meets consumer needs as it can be applied as the first step in a skin care regimen and reapplied throughout the day without leaving residue or disrupting makeup.
"UVA rays come in through the windows, and UVA and UVB rays come through clouds, so even if you're on the balcony on a cloudy day or working near a window, you're exposed to dangerous rays, leaving your skin in need of protection," Henry said. "CeraVe Hydrating Sunscreen Sheer Tint is perfect for indoor or outdoor use because it provides broad-spectrum protection against both types of rays, but also contains beneficial skin care ingredients like ceramides and hyaluronic acid, making it simple to incorporate SPF into a healthy skin care regimen."
"Sunscreen is essential for skin health and to help protect from the damaging effects of the sun's UV rays, but we've found that for a variety of reasons, consumers overlook this essential step in their daily routines," Derrick Booker, CeraVe vice president of marketing, said. "CeraVe is committed to educating consumers about proper sun protection and offering SPF products that meet each person's unique needs so that there is a therapeutic sun care solution for everyone."