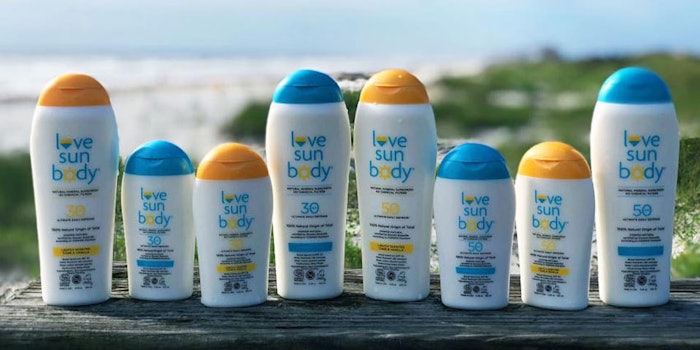 Love Sun Body, a brand specializing in sun care products containing natural, plant-based ingredients, has been certified by Ecocert Cosmos Natural. Additionally, it has been named reef-safe and vegan by the Environmental Working Group (EWG).
Love Sun Body products are meant to be absorbed quickly while leaving the skin with a moisturized, matte finish. The formulas are reportedly gentle enough to be used on the face and do not contain "eye-stinging" ingredients.
Products include SPF 30 or 50 formulas. Consumers can choose between products that are fragrance-free or lightly scented with tiare flower and vanilla. According to the brand, the SPF 30 is smooth and creamy and leaves no white residue. The SPF 50 formula is a slightly heavier cream that leaves a hint. This hint of tint can be used to identify where the product has been applied and if any spots were missed, Love Sun Body explained. 
Products retail for $21.00 for 3.38 oz /100 ml and $32.00 for 6.76 oz /200 ml, and are available for purchase at Birchbox, Credo, Neiman Marcus, Beauty Collection, Amazon, Dermstore, LoveSunBody. 
Ingredients:
SPF 30 Fragrance-Free
Active Ingredients: Zinc Oxide (Non-nano) 20.4%
Inactive Ingredients: Almond Oil, Aqua/Water, Benzoic Acid, Caprylic/Capric Triglyceride (Coconut Oil), Cetyl Alcohol, Glycerin, Glyceryl Sterate SE, Polyhydroxystearic Acid, Sorbitan Laurate, Sunflower Oil, Tocopherol (Vitamin E) and Xathan Gum
SPF 30 Lightly Scented 
Active Ingredients: Zinc Oxide (Non-nano) 20.4% 
Inactive Ingredients: Almond Oil, Aqua/Water, Benzoic Acid, Caprylic/Capric Triglyceride (Coconut Oil), Cetyl Alcohol, Glycerin, Glyceryl Sterate SE, Natural Tiare, Natural Vanillin, Polyhydroxystearic Acid, Sorbitan Laurate, Sunflower Oil, Tocopherol and Xathan Gum
SPF 50 Fragrance-Free
Active Ingredients: Zinc Oxide (Non-nano) 21%, Titanium Dioxide (Non-nano) 7.2%
Inactive Ingredients: Almond Oil, Aqua/Water, Benzoic Acid, Caprylic/Capric Triglyceride (Coconut Oil), Cetyl Alcohol, Glycerin, Glyceryl Sterate SE, Polyhydroxystearic Acid, Silica, Sorbitan Laurate, Stearic acid, Sunflower Oil and Tocopherol 
SPF 50 Lightly Scented
Active Ingredients: Zinc Oxide (Non-nano) 21%, Titanium Dioxide (Non-nano) 7.2% 
Inactive Ingredients: Almond Oil, Aqua/Water, Benzoic Acid, Caprylic/Capric Triglyceride (Coconut Oil), Cetyl Alcohol, Glycerin, Glyceryl Sterate SE, Natural Tiare, Natural Vanillin, Polyhydroxystearic Acid, Silica, Sorbitan Laurate, Stearic acid, Sunflower Oil and Tocopherol