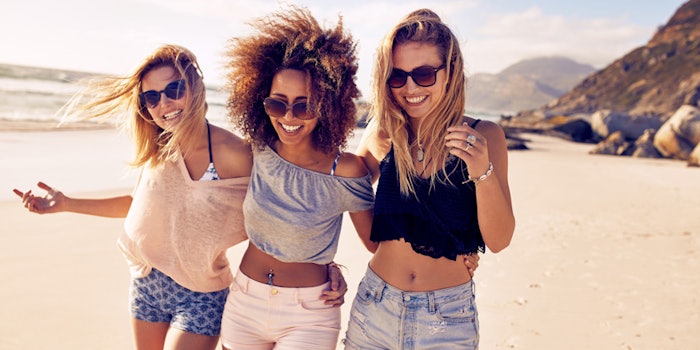 The sun care market is experiencing a revamp. And recent data from Mintel suggests the category's transformation is only just beginning. 
During in-cosmetics North America, held on October 23–24, 2019, in New York City, David Tyrell, Ph.D., global skincare analyst, Beauty & Personal Care, Mintel, hosted the session "Suncare Reinvented." Tyrell spoke to attendees about the consumer behaviors and trends expected to impact sun care products in the coming years. 
Reinventing Sun Care
Tyrell began his talk by encouraging the audience to "tap the growing eco-ethical passions of consumers." He explained that in the U.S., 51% of residents would pay more for a product from a socially responsible company; in the U.K., 65% of residents try to live a more ethical lifestyle than a year ago; and in China, 51% of mintropolitans make efforts to reduce their carbon footprint. 
Tyrell suggested:
Embracing a stronger transparent environmental narrative: Brands should obtain and promote Union for Ethical Biotrade (UEBT) certification, which ensures biodiversity is conserved for the entire sourcing system and that employees within the supply chain are paid fairly and treated with respect.  
Exploring upcycled waste materials: One such example was the actives synthesized from cashew nut shell liquid—a common waste product—are capable of absorbing UVA and UVB radiation. 
Addressing youth demands around climate change: According to Tyrell, 55% of U.S. Gen Z consumers (18-22) worry about climate change, with terrorism at 54% and the economy at 67%. 
Formulating Sun Care for "Generation Z Plus"
Tyrell stated that "Generation Z Plus" (those born in 2007 and on) will be the first minority generation in the U.S. This provides sun care brands with an opportunity to design products for a wide variety of pigmented skin tones. Brands already offering sun care for skin of color include Black Girl Sunscreen and UnSun Cosmetics. 
8 Trends Impacting Sun Care
Tyrell shared a variety of trends expected to impact sun care moving forward:
Multifunctional sun care benefits, including products that can withstand rising temperatures and humidity;
Skin care products that protect the microbiome by utilizing postbiotics and prebiotics;
Products specifically made for tattoo sun protection;
Unique sunscreen formats—i.e., Supergoop!'s Poof Part Powder, a 

mineral SPF product for the exposed scalp found in the hair part;

Genderless sun care; 

Sun care formulations utilizing superfoods;

Sun care meets mental health: Brands should explore formulating products with ingredients meant to de-stress skin and enhance users' moods; and

Applying the Marie Kondo philosophy to sun care—simplifying sun care routines and formulas by utilizing the fewest essential products and ingredients.