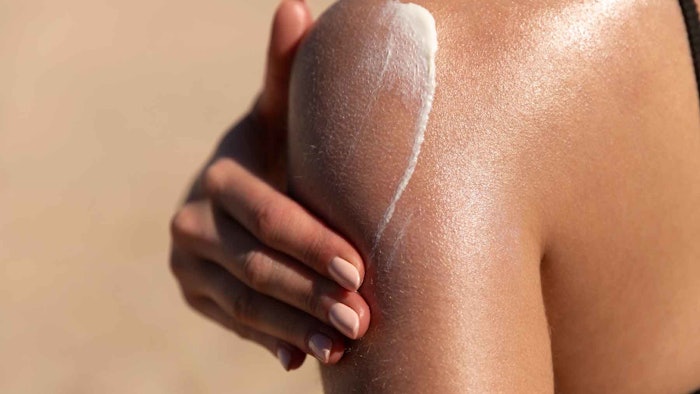 Vytrus Biotech has released a prebiotic focused on the interaction between sun radiation and skin microbiota, which it refers to as the Sun-Microbiota-Skin axis. Derived from pomegranate and cotton, Photobiome (INCI: Gossypium Herbaceum (Cotton) Seed Extract (and) Punica Granatum Seed Extract (and) Glycerin (and) Trehalose (and) Pentylene Glycol (and) Fructooligosaccharides (and) Water (Aqua) (and) Phytic Acid) is described as a new category of microbial antioxidant.
See related: Vytrus Biotech Debuts Elaya Renova for Hair/Scalp 'Tensegrity,' New Brand Identity
As Vytrus Biotech explains, the interaction between sun radiation and skin microbiota can have a positive or negative impact on skin health and appearance. Specific bacteria have the capacity to synthesize and release certain molecular components metabolized by the interaction of the microbiota with solar radiation. These metabolites can cause photoaging and are targeted by the Photobiome active.
The prebiotic imparts a "Photobiome Factor," bringing beneficial molecules to counteract the metabolites created. This, in turn, protects the microbiota and skin cells against photo-oxidative stress from the sun.
The ingredient incorporates pomegranate cell culture, which is rich in selective cell membrane lipids such as phospholipids, glycolipids, glycerides and free fatty acids. It also contains polyphenol fraction (plant chromophores), especially ellagic acid, as a precursor of urolithins. These metabolites from gut microflora have gained recent interest for anti-aging and health benefits, according to a paper in Trends in Molecular Medicine.
The cotton culture in Photobiome is reportedly a cell lysate rich in protective cellular factors including plant chromophores and antioxidant, anti-inflammatory and photoprotective polyphenols such as gentisic, salicylic, p-coumaric, transferulic, caffeic and kaempferol acids, quercetin and rutin. The company notes the two plant cell cultures have also been enriched with two plant-derived sugars that reportedly play a key role as protectors and strengtheners of microbial cell membranes.
Photobiome is recommended for anti-wrinkle products to treat the crow's feet and eye contour areas, and is said to improve skin firmness and elasticity. It can also be used as a preventative active in antioxidant and sun care repair formulas.
See related: Vytrus Biotech Boosts Vitamin D to Skin with Nectaria Lithops