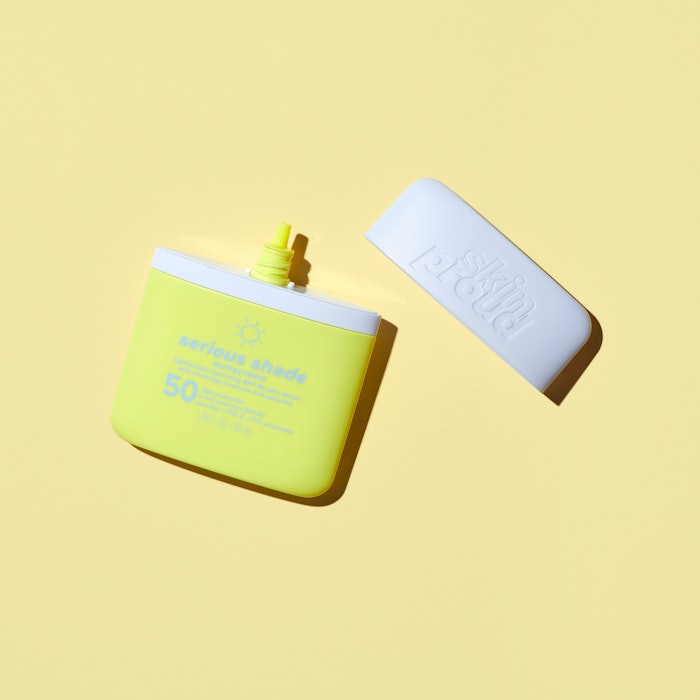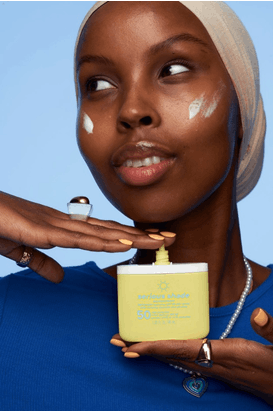 Skin Proud has launched the Gen Z-friendly Serious Shade Lightweight Hydrating SPF 50 Sun Serum, designed to provide broad-spectrum UVA/UVB protection. The serum, which is meant to tackle Gen Z's hesitance to embrace SPF defense, retails for $13.74 and is available at Walmart.
Report: Sun Care's 2023 Glow Up
The formulation includes the chemical sunscreen filters avobenzone (3%), homosalate (15%), octisalate (5%) and octocrylene (10% ) in combination with ceramides for moisture barrier balance, vitamin C-rich acerola cherry extract to protect skin against free radicals, and antioxidant spirulina to fight free radicals, soothe skin, and support the skin's natural moisture barrier. 
The daily-use serum imparts a healthy and dewy glow on the skin with no white cast, per the brand, and can be worn as a base beneath makeup.
The serum's recyclable secondary packaging features soy ink printed on FSC-certified cardboard. The bottle comprises 30% PCR plastic.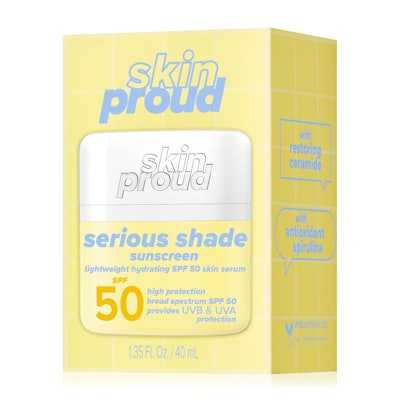 The brand recently surveyed* Gen Z consumers and found that 79% don't wear SPF daily, while just 9% wear factor 50 or above. Among the reasons for not wearing sunscreen are misperceptions about the need to wear SPF only in sunny climates and a concern over the chemical composition of sun care.
That said, 43% of Gen Z respondents believe SPF reduces signs of aging, while 41% believe it reduces the risk of skin cancer.
Curiously, only 28% of Gen Z respondents believe that the sun causes skin damage, and only14% think pollution does.
"At Skin Proud we are committed to educating and supporting our community, through commissioning this research it has given us a unique insight into Gen Zs use of SPF through their sun care habits, knowledge and identifying any myths so we gain a further understanding," says Nora Zukauskaite, global marketing director at Skin Proud . "Which we can utilize through our positioning of the new Skin Proud Serious Shade Lightweight Hydrating SPF 50 Sun Serum with Gen Zs and our community as the ultimate SPF product, for skin the future you will be proud of."
*Methodology: 1,000 U.S. adults ages 18-25 were surveyed by OnePoll on behalf of Skin Proud in February 2023 in accordance with the Market Research Society's (MRS) code of conduct. Data was collected between 31/01/2023 and 07/02/2023. All participants are opted in to take part in research and are paid an amount depending on the length and complexity of the survey. This survey was overseen and edited by the OnePoll research team, who are members of the MRS and have corporate membership to ESOMAR.