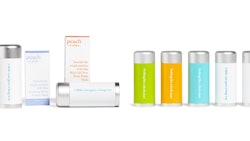 Grove Collaborative is merging with Virgin Group Acquisition Corp. II, a publicly-traded special purpose acquisition company (SPAC) sponsored by Virgin Group. Grove Collaborative will become a public company under the deal.
The sustainability-focused Grove has more than 1.5 million active customers on its direct platform and millions of units sold at physical retail. Earlier in 2021, the brand expanded into Target stores nationwide and on Target.com.
Grove Collaborative has also built and launched several sustainable brands in the personal care, paper, and beauty categories, including the plastic-free bar format body, hair and deodorant brand, Peach not Plastic.
The transaction values Grove Collaborative at $1.5 billion and is expected to close in late Q1 or early Q2 2022. The combined company will continue to operate under the Grove Collaborative name and will be listed on the NYSE under the new "GROV" ticker symbol.
Previously: Orveon Acquires Brands from Shiseido
Stuart Landesberg will lead the combined organization as co-founder and CEO of Grove Collaborative.
"In going public, we sought a partner that shares our passion for using business to answer the urgent environmental crisis, and that accelerates our vision to make consumer products a positive force in human and environmental health," said Landesberg. "In that spirit, we are thrilled to partner with mission-driven disruptors Sir Richard Branson and VGII as we embark on this next chapter. Together we will create new opportunities to revolutionize the CPG industry to be a positive force for human and environmental health. The CPG category is ripe for disruption. As an industry, we can, should, and must be able to offer products that are high performing and good for the planet. Grove Collaborative can be a driving force for change, through our ongoing product innovation, retail partnerships and our ambitious goal to become 100% plastic free by 2025,."
"I am inspired by Grove Collaborative's vision to transform the availability and quality of planet-first products," said Branson, Virgin Group founder. "Grove Collaborative is paving the way for people to have more access to healthy, sustainable goods for their homes and I am excited to see the company's impact on customers' health and wellbeing. There are huge growth opportunities ahead, and we are delighted to work alongside Stu and his team as Grove Collaborative continues to disrupt the industry and make a positive difference to people and the planet."
Evan Lovell, chief investment officer of Virgin Group, commented: "Grove Collaborative has a distinctive opportunity to capitalize on a growing sustainable products market ripe for disruption. Virgin Group sought to partner with an exceptional consumer products company, and our mission and platform offered the perfect opportunity for two incredible teams to come together. We are thrilled to partner with Grove Collaborative and their team and look forward to our collective future success as a publicly traded business."