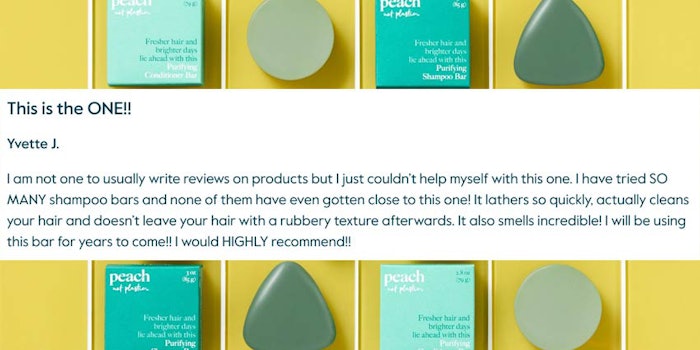 One year ago, Grove Collaborative launched Peach Not Plastic a hair, skin and body care brand that has reportedly saved 82,891 lb of plastic in its first 12 months, which is equivalent to keeping 1.2 million plastic bottles from consumers' bathrooms.
The brand has also reportedly saved more than 60,000 gallons of water compared to traditional liquid products and avoided the clear cutting of virgin forests by using 100% reclaimed paper boxes.
EVENT ALERT: Luana Bumachar Speaks at Beauty Accelerate Virtual
Global Cosmetic Industry recently interviewed Luana Bumachar, vice president of owned brands and innovation, Grove Collabor­ative, about the brand, its accomplishments and what it has learned in the last year.
What has the overall feedback from consumers been regarding Peach not Plastic's products and its sustainability initiatives?
Bumachar: Peach not Plastic is vegan, clean and 100% plastic-free beauty and personal care line that makes sustainability fun. Launched by Grove Collaborative in October 2020, Peach not Plastic is on a mission to kick plastic out of the bathroom.
​​While the plastic problem is serious, choosing to live sustainably doesn't have to be. The line of shampoo and conditioner bars, deodorant, body lotion and facial bars are plastic-free and with clean, benefit-led formulas that work.
It also has expressive and delightful scents that are made with 100% natural fragrances.
Within a year, Peach not Plastic has saved 82,891 lb of plastic, the equivalent to kicking over 1.2 million personal care plastic bottles out of people's bathrooms. Our consumers are very excited and proud to be a part of such a positive contribution to the environment.
Not only have they shared their enthusiasm for our sustainability initiatives and overall mission with us on social media and on our website, but they're also very vocal about their love of our products and that they do not have to compromise on performance to make better, more sustainable choices when it comes to their personal care routines.
What comments have consumers provided throughout the year regarding Peach's mission to remove plastic from the bathroom?
Bumachar: Peach not Plastic has been hugely successful this past year. The vegan, 100% plastic-free formats, bright colors, expressive scents and optimistic brand personality are resonating really well with consumers, vaulting Peach Hair Care and Deodorant to the #1 brand in the categories it competes in.
Peach also has over 3,300 reviews with an average rating of 4.2 stars with 63% being 5 stars reviews.
Which products have been your best sellers over the past year?
Bumachar: Our hair care bars and refillable deodorants are our two best selling categories. The launch of deodorant and body care sticks was extremely successful as well. We beat our plan by over 300%, and Peach not Plastic is now the best selling deodorant brand on our site by upwards of 10x vs. the next brand.
This just proves that consumers can have it all: vegan and clean products that work and do good for the planet...with no compromise.
Within hair care, our Volumizing Shampoo & Conditioner variant have been one of our best sellers. Not many hair care bars carry variants that address specific consumer hair needs and consumers love that Peach not Plastic offers a wider range of benefits for their hair.
In deodorant, our Cucumber Sage and Coconut Jasmine scents are our best selling products. They are made with 100% natural fragrances, and offer 48 hour of odor protection
Can you share any insights regarding Peach not Plastic's supply chain?
Bumachar: COVID definitely posed its challenges from a supply chain perspective, from labor shortages, to raw material and freight delays
Planning in advance became even more important: In order to mitigate these challenges we are working very closely with our great partners to forecast out raw material and production needs as much as a year in advance.
What's next in store for Peach not Plastic?
Bumachar: The brand is only in the beginning of its journey and there is so much to come. We are always looking at unmet needs and the desires of our consumer. We believe that every and each consumer can have a Peach not Plastic experience.
Thus, we are always on the lookout to innovate in categories in which Peach not Plastic can deliver superior product performance with clean, vegan formulas that are 100% plastic-free.
The goal is to meet consumer needs and desires of today and tomorrow that are also good for the planet.