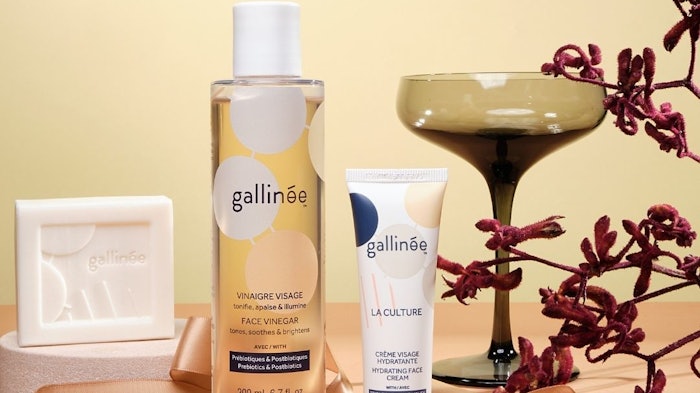 "Just as it is in apparel, waste is built into beauty's business model," wrote Rachel Cernansky in Vogue Business in September 2021. "However, most work to eliminate waste has so far been connected to packaging, while overlooking other sources. Waste is generated by formula testers, unsold or returned products and items that expire in warehouses or on store shelves. Compounding the problem is the lack of data on how much actually gets wasted, as well as a lack of solutions for managing that waste better."
As we enter 2022, two brands are taking direct action on waste related to expiring or imperfect products.
Gallinée has launched an "anti-waste operation," giving shoppers the opportunity to purchase Gallinée products closer to the expiration date at a 70% discount. Purchased products will offer months' worth of safe efficacy, the brand notes. Shoppers may pick one discounted product of any type, with no limit on number of different products.
The program comes amid rising scrutiny of waste related to unsold and expiring products.
Video: Gallinée Enters Oral Care
Under the Gallinée program, in the United Kingdom,  shoppers can use special codes to buy reduced-price Hair Cleansing Cream, Care Mask, Scalp & Hair Serum, Skin & Microbiome supplement, Youthful Serum and Eye Contour Cream. Products feature expiration dates between May and September 2022.
Within the United States, shoppers have their pick of the Hair Cleansing Cream, Care Mask, Scalp & Hair Serum,  Hand Cream, Face Vinegar, Skin & Microbiome, Youthful Serum and Eye Contour Cream. Expiration dates range between May and September 2022. 
Meanwhile, All Tigers has launched its Wild Days program (January 3-12, 2022), which offers discounted products with defective labeling and other minor imperfections.
The brand notes, "These are limited quantities, the economic stake remains modest for All Tigers, but it is an appointment that we hold dear, a symbol in the face of the immense waste generated by the cosmetics industry, and especially makeup."
Offerings include nail and lip products.