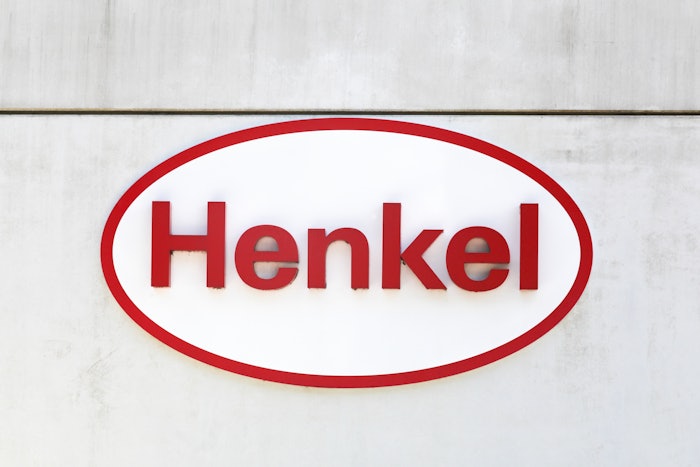 Henkel's fiscal 2021 organic sales grew 7.8%, totaling 20,066 million euros. 
Beauty Care recorded sales of 3,678 million euros and organic growth of 1.4%. The business unit delivered an adjusted return on sales of 9.5%.
Looking ahead, organic sales growth for the group is being forecast in the range of 2-4% in fiscal 2022, with Beauty Care business posting negative 3-5% organic sales due to portfolio shifts, including the discontinuation of non-core businesses.
Adjusted earnings per preferred share (EPS) for the group increased to 4.56 euros or 9.2% (at constant exchange rates). 
Henkel is merging its Laundry & Home Care and Beauty Care divisions to create a Consumer Brands business unit, representing about 10 billion euros in sales. The move will be in place by early 2023.
Wolfgang König, currently executive vice president for Henkel´s Beauty Care business, will lead the new combined unit. Bruno Piacenza, who leads Henkel´s Laundry & Home Care business as executive vice president, will continue to lead the Laundry & Home Care business. During the transition, Piacenza will remain with Henkel through the end of 2022.
Report: Henkel's D2C Store
The company noted, "By integrating both business units Henkel will create more scale, allowing the company to capture significant synergies [administration, distribution, marketing, and supply chain] and to become more efficient and agile as well as helping the organization to act faster and more flexible in a highly volatile environment."
Specific investments are expected in digitalization of R&D, e-commerce capabilities and recyclable packaging.  
Furthermore, the company will focus on growth-driven core brands and businesses while engaging in divestments of non-core businesses and pursuing M&A activity. This is expected to begin with the beauty business throughout 2022.
Henkel will also launch a share buyback program of up to 1 billion euros.
"We will join forces in our consumer goods businesses to create one strong, integrated business unit as a foundation for future profitable growth," said Carsten Knobel, CEO of Henkel. "The integrated Consumer Brands business will bring significant benefits to Henkel, our shareholders, customers and teams and will be well-positioned to actively shape its future in a highly dynamic industry."
Knobel continued, "We are creating a multi-category platform with around 10 billion euros in sales. This will provide a broader basis to further optimize and shape our portfolio toward a higher growth and margin profile. We will also capture significant synergies and efficiency gains, allowing us to free up resources which will be used in part for targeted investments in our strategic priorities, such as innovation, sustainability, and digitalization. We will become an even more attractive employer of choice, offering bigger roles and growth opportunities in an exciting industry. In summary: I am convinced that this merger will take our Purposeful Growth Agenda to the next level."
"On behalf of the shareholders' committee and the supervisory board of Henkel, I would like to wish Wolfgang König all the best for his new responsibility," said Simone Bagel-Trah, chairwoman of the shareholders' committee and the supervisory board of Henkel. "His international management and leadership experience in the consumer goods, home and personal care industry will be highly valuable in forming and successfully developing our new Consumer Brands business unit together with the new leadership team."
Bagel-Trah added, "I would also like to sincerely thank Bruno Piacenza. He looks back at more than 30 years at Henkel and has led our Laundry & Home Care business as executive vice president for more than 11 years. Thanks to his passion and expertise, our top brands and the business have developed successfully over this period. We are very grateful for his commitment and contribution and are glad he will work with Wolfgang König to ensure an efficient transition process."
"Under the leadership of Wolfgang König, the combined team will focus on advancing the entire Consumer Brands business, with leaner structures and faster decision-making. I would also like to express my personal appreciation for Bruno Piacenza and his many achievements in the course of more than three decades at Henkel," said Knobel.
Of the buy-back program, Knobel said, "With this program, we are creating value for our shareholders and are underpinning our confidence in our financial strength and future potential of our businesses. Given our strong balance sheet and low debt levels as well as our strong cash flow generation, this will not impact our ability to pursue strategic acquisitions–in both our Consumer Brands and our Adhesive Technologies business units."
Of the annual results, Knobel said, "Despite a very challenging business environment with unprecedented disruptions in global supply chains, shortage of raw materials and significantly surging prices, we achieved an overall good performance with significant organic growth supported by all business units, a stable margin and a very strong increase in earnings per share. This is the achievement of the global Henkel team which again went above and beyond to keep our businesses up and running to serve our customers and consumers around the world."