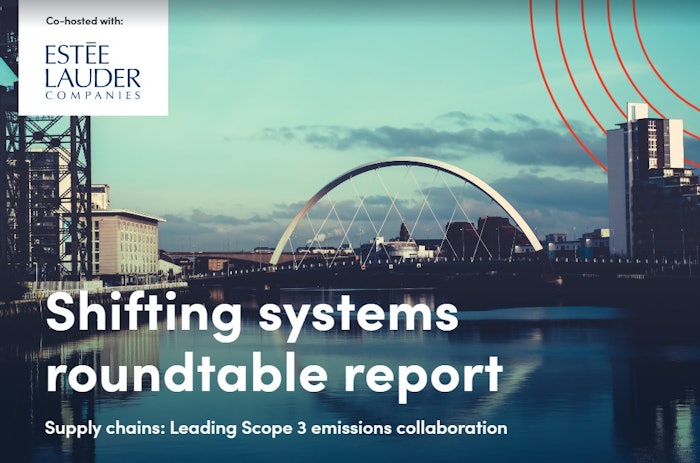 Estée Lauder and Climate Group have released their "Shifting systems roundtable report" that identifies key recommendations for action on Scope 3 emissions.
The report is a result of a roundtable discussion at COP26 in November 2021 on the collective effort required from the business community to address climate action. 
Key takeaways: 
Create a "climate school:" A space to educate and train suppliers will empower them to set science-based targets and more robust transition plans. 
Collaborate for success: Co-designing solutions with regional suppliers and competitors can open up new possibilities. 
Steamline your reporting: Consider data sharing to create consistent data across an industry. Work collaboratively to simplify the reporting process  by using the same reporting formats or documents. 
Stay on top of data collection: Ask suppliers to share data in order to accurately report your company's Scope 3 impact. 
Embed sustainability into your corporate identity: Linking your Scope 3 approach to your strategy, structure and governance can help drive results.
The report concludes that suppliers are asking for financial partnership to drive co-investment into solutions. It is important to consider how you can develop innovative financing mechanisms that work for the supplier and your company.   
Nancy Mahon, SVP global corporate citizenship and sustainability at The Estée Lauder Companies, said, "The science has never been clearer: We must take immediate, decisive action on climate change to safeguard the planet for current and future generations. In order to drive the short-term actions needed to achieve the goals of the Paris Agreement, partnership and collaboration through meaningful dialogue are key. For ELC, reducing carbon impacts beyond direct operations is a critical part of this short-term agenda. As a global business committed to taking action on climate, we deeply value the opportunity to connect with our peers for candid discussion around the shared challenges we face, and how we can work together to build collective solutions. That's why we partnered with the Climate Group to convene members of the business community at COP26 to discuss best practices, tackle shared challenges and create new collective opportunities to address Scope 3 emissions."
Joan MacNaughton, chair of the Climate Group, said, "We at the Climate Group were delighted to continue our work helping many of them scale up and accelerate their climate action efforts. We firmly believe that only by redoubling what companies are doing to redesign their business models and redirecting investment to low carbon goods and services will we succeed in creating a sustainable form of global prosperity. The businesses we work with have the global reach to make a difference and growing expertise in how to do so. The roundtable we convened in partnership with The Estée Lauder Companies addressed the challenges of how to engage actors across the whole value chain in driving down their own emissions and accordingly reducing the Scope 3 emissions of the companies they supply."