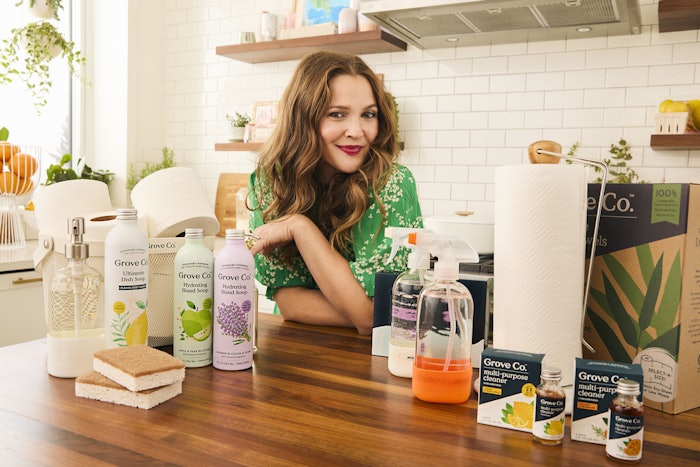 Grove Collaborative has announced that Drew Barrymore has joined the company as an investor and its first global brand and sustainability advocate.
The partnership launches with Grove's first multi-channel brand campaign, "Wish-cycling," which features Barrymore and sets out to debunk the myth that plastic recycling is the solution to the plastic crisis.
Wish-cycling is said to be putting something in the recycling bin wishing and hoping it gets recycled. In fact, only 9% of the plastic we consume gets recycled.
Grove and Barrymore are on a mission to educate and inspire collective action with the goal of eliminating plastic from our daily lives for good and for the good of our planet.
Barrymore will work closely with Grove's product development team on Grove Collaborative's flagship home care brand, Grove Co. She will also join Grove's advocacy work to lead the industry at large out of its reliance on plastic packaging.
Stu Landesberg, CEO and co-founder of Grove Collaborative, said, "Drew is such a positive and authentic person and she is an incredible example of someone who strives to affect change by inspiring and educating others. We are thrilled to welcome Drew to the team to work together towards a common goal of creating a more sustainable plastic-free future."
Barrymore said, "I've spent years looking for easy, real solutions for a more earth-friendly lifestyle at home for my family and the world around me. I have been a fan of Grove products since I discovered their starter kit and am inspired by their goal of being 100% plastic free by 2025. I'm thrilled to join the Grove team so that we can make it easier for everyone to make the important switch to more sustainable products and fight the plastic crisis our world is facing."