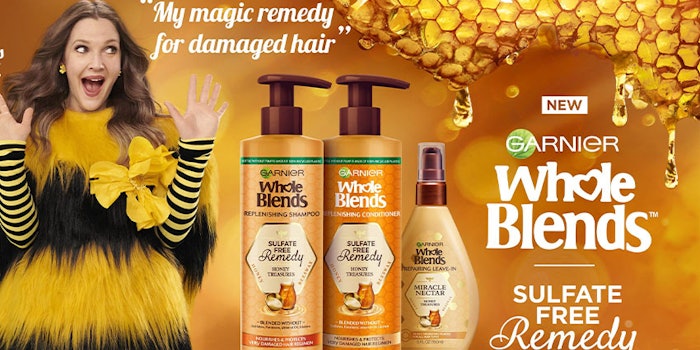 Garnier Whole Blends has named Drew Barrymore as the brand's ambassador and creative director. 
Related: Garnier 2021 Launches Propel Sustainability
Barrymore helped lead creative with the brand for a TV advertising spot and will serve as the face of the new Whole Blends Sulfate Free Remedy Collection.
The creative will begin running on February 15, 2021, and includes TV, digital and social media content.
The brand introduces the Garnier Whole Blends Sulfate Free Remedy collection that is available in three blends:
Whole Blends Sulfate Free Remedy Honey Treasures: The formula includes sustainably sourced acacia honey and beeswax made for dry, damaged hair. The launch includes a shampoo, conditioner, and Leave-In Miracle Nectar 10-in-1 Treatment.

Whole Blends Sulfate Free Remedy Coconut Oil and Cocoa Butter: The formula blends coconut oil and sustainably sourced cocoa butter to treat frizzy hair. The launch includes a shampoo, conditioner and Leave-In Frizz Tamer Treatment.

Whole Blends Sulfate Free Remedy Royal Hibiscus and Shea Butter: Made for curly and coily hair, this formula contains hibiscus flower and sustainably sourced shea butter. This line includes a shampoo and 5-in-1 conditioner that can be used as a pre-wash, co-wash, conditioner, combing cream or leave in. 
Barrymore said, "I've been a fan of Garnier Whole Blends since trying the Olive products last summer, so when they approached me with the idea to help them launch the new clean beauty Sulfate Free Remedy Collection, I was all in.  The products are amazing and good for your hair, but what's even better is that the brand is doing so many good things to give back and help make the planet greener, they have a total end-to-end approach to sustainability, Greener Beauty, and work with NGOs such as the Bee Conservancy, protecting 10 million bees, and that's really important to me."
Adrien Koskas, global brand president for Garnier, said, "We are delighted to welcome Drew to the Garnier brand. Together we have thrown out the rulebook when it comes to hair care advertising, creating a truly fresh approach which we hope connects with our consumers. Drew's involvement has been phenomenal, both because she genuinely loves the products and also because of her creative input in the campaign."