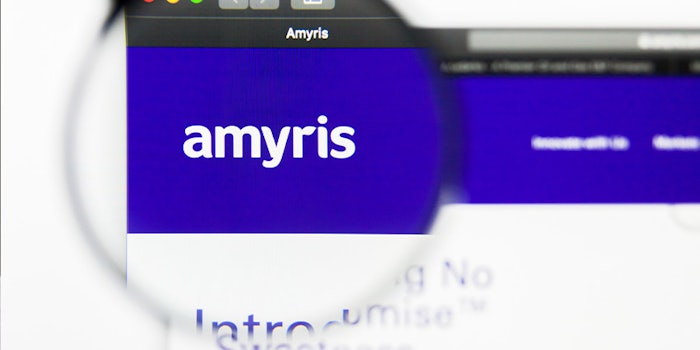 Amyris has announced its Q1 2022 results, which showed core revenue was $57.7 million, a 75% increase compared to the previous year of $33.1 million. 
Consumer Segment
Consumer revenue for Q1 was $34.6 million, a 121% increase compared to the previous year's revenue of $15.7 million.
Fifty-seven percent of Q1 consumer revenue was direct-to-consumer from Amyris e-commerce, while 43% originated from retail.
Amyris expects both factors to drive additional growth in the second quarter and beyond.
Ingredients Segment
Ingredients revenue for Q1 was $10.8 million, a decrease of 14% compared to the previous year of $12.5 million.
2022 Financial Outlook
Consumer revenue is expected to grow more than 150% year-over-year.
John Melo, president and CEO, said:
We continued to advance our growth roadmap, delivering 75% core revenue growth and growing consumer revenue by 121% versus the prior year quarter to a new record of $35 million. Technology access revenue grew 33% year-over-year to $23 million in the quarter. We experienced strong demand for our consumer and ingredients products, an estimated $7 million more than we had capacity to deliver, particularly in ingredients due to reliance on third party manufacturing. We began commissioning our strategic fermentation plant in Barra Bonita, Brazil keeping us on track to start commercial production in the second quarter. This investment is critical to meet demand, reduce our reliance on costly third-party ingredients manufacturing and the delivery of substantial margin improvement starting this year.
Demand is very robust for our high-performance and environmentally responsible consumer products. During the first quarter, we completed the acquisitions of MenoLabs, a science-backed menopause-focused women's wellness brand, and EcoFabulous, our new Gen Z brand, with MenoLabs contributing new revenue in the first quarter. We remain on track to launch EcoFabulous and Stripes, a menopause brand in partnership with Naomi Watts, in the third quarter of this year. These three brands, along with JVN clean hair care and Rose Inc. clean color cosmetics, are expected to deliver significant new revenue in the quarters ahead.
Over the past 12 months, we have been focused on incubating, acquiring and investing in our consumer portfolio, which has paved the way for our current rate of consumer growth. We have built the leading portfolio of consumer brands in the categories we serve. We are now transitioning our focus to execution, efficiency and portfolio management. We plan to further optimize our portfolio and are in discussions for the licensing of marketing rights of two ingredients which we expect can deliver over $250 million of proceeds by the end of this year, evidencing the quality and depth of our technology-driven asset base. Our products address the needs of over 300 million consumers globally while reducing reliance on unsustainable and environmentally harmful ingredients. The world is becoming powered by Amyris' technology as we all seek ways to address global supply chain volatility, ingredient and product safety, and personal health and wellness.