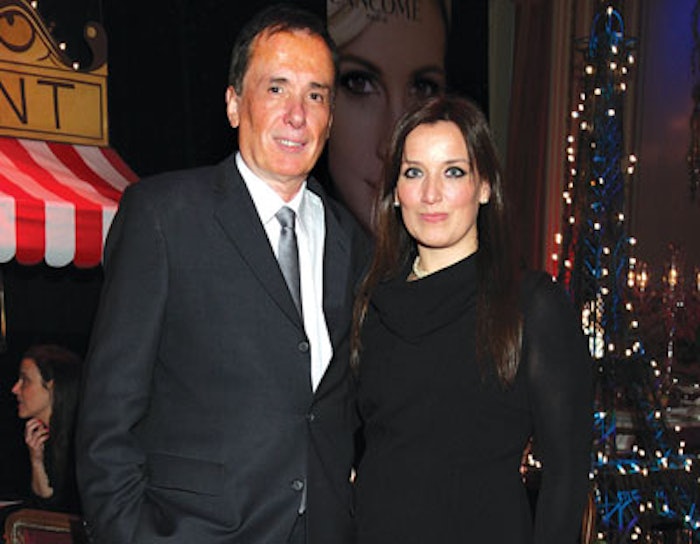 The Latin American market continues to be lucrative for international beauty companies, and L'Oréal reported its sales in the region grew 35.2% in the first half of 2010, compared to the same period in 2009—excluding the exchange rate, the growth was 19.8%. The growth rate in this region was attributed to deodorants, hair care products and hair colorant sales, resulting in a sustained dynamism in Brazil, Argentina, Mexico and Colombia. In the reporting period, Latin America sales reached €735.1 million and surpassed the growth in the company's other key markets—notably Western Europe, where growth only rose by 2.9% in the first half of 2010, and the U.S., which grew by 8.6%.
Shakira Fragrance Launches
Spain-based Puig launched S by Shakira, a new celebrity fragrance created with the Colombian singer and dancer, in Latin America. After success in Spain and Portugal, the perfume was introduced to Latin America through the Argentine market. María Luján Guerra, beauty marketing manager for Puig, told GCI magazine that the company started promoting S by Shakira in Argentina through an important advertising campaign, placed in TV, newspapers, magazines and on the Internet. The fragrance has also launched in Chile and Peru, and Puig plans to market it in Brazil, Mexico, Colombia and the United States, as well.
Familiar Brands Comprise Chile's Cosmetics Chamber Board
The Chilean Cosmetics Industry Chamber elected new board members for 2010–2012. Fernando García Aguilar, general manager of the Chilean beauty company Cosmética Nacional, was named president, and L'Oréal Chile's Juan Pablo Vergara is the new vice president. The new board also includes employees of Beiersdorf, Colorbel, Intercos, Cosmética Davis, Unilever Chile, Johnson & Johnson and Laboratorios Petrizzio.
Bobbi Brown Store Opens in Buenos Aries
The Estée Lauder Company's Bobbi Brown brand opened an exclusive store in Buenos Aires, Argentina, located in the high-end shopping center Galerias Pacifico in the heart of the Argentine capital. The area attracts thousands of visitors daily, and is especially popular with tourists from Brazil, the U.S. and Europe. The Bobbi Brown store, which officially opened on July 16, 2010, is connected to a La Mer store, another brand owned by Estée Lauder—each point of sale operates separately. There are additional plans to open two other Bobbi Brown stores in Buenos Aires in 2011.
Parfums Grès Now Part of Beauty Group
Argentine beauty company Beauty Group has enlarged its portfolio with the addition of French fashion house Madame Grès' fragrances. Beauty Group acquired the rights to market the Cabotine and Cabochard scents in Argentina from the American Essence Corp. Beauty Group currently distributes Angel Schlesser, Armand Bassi, Britney Spears, Elizabeth Arden, Hillary Duff, Mandarina Duck, Mariah Carey, Custo Barcelona and Roberto Cavalli branded beauty products in Argentina.
Lancôme Celebrates 75 Years
L'Oréal organized an event for beauty editors and celebrities to honor the 75th anniversary of its Lancôme brand at the Alvear Palace Hotel in Buenos Aires on July 15, 2010. The setting is heavily inspired by Parisian culture, which was perfect for reflecting the brand's history. According to the director of L'Oréal's luxury products division, Valentín González, "The brand continues to be a trend setting leader since it launched in Argentina 67 years ago." Lancôme operates an exclusive store in Buenos Aires.
Cristina Kroll is a business journalist specializing in the beauty sector and living in Buenos Aires, Argentina. She has written for the main Argentine magazines related to the beauty business, and was a correspondent for French magazine Beauty Business News.