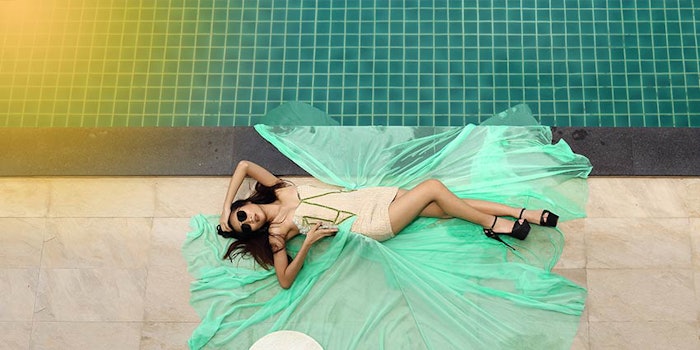 According to data collected by Dadex's Worldometer, Asia Pacific comprises 4.5 billion people, or just short of 60% of the global population. The region is home to three of the most important beauty markets in the world—China, Japan and Korea—as well as dynamic markets with strong regional identities and market realities, including the Philippines and Vietnam. According to a recent presentation at FIT in New York from Sharon Kwek and Sarah Jindal, both senior global analysts, innovation and insights, beauty and personal care, for Mintel, the region is at the epicenter of the industry's future.
Further reading: J-beauty and K-beauty Innovation
According to Mintel data presented during the session, 44% of new product launches in Asia Pacific over the period of 2015 to June of 2018 have fallen in the color cosmetics category, roughly on par with the share found in the U.S. market during the same period (46%).
It's little surprise that the region over-indexed for the portion of new launches devoted to skin care (32%), relative to the U.S. market (20%). The U.S. market devoted a larger portion of its new product launches to hair care (16% vs 11%) and fragrances (5% vs 3%), compared to Asia Pacific. Both regions portioned 9% of launches to soap and bath products. 
What is Beautiful: Decoding Asia's Beauty Ideals
According to Kwek, trends tend to circulate among the regional beauty centers of Asia Pacific, including Korea, Japan, China, Taiwan, Singapore and, in some cases, Australia, while the United States also plays a role in the natural cycle of innovation directions. A leading trend among many of the top markets is the rising focus on hydration for a healthy glow and strong skin barrier. While trends circulate among markets, specific beauty ideals can remain more localized, with consequences for beauty brands. 
36% of Chinese females aged 20-49 have experienced dark spots/pigments in the last six months.
China
For instance, Chinese consumers have become enamored with what is called the "noble face," which comprises thick, pouty lips, elongated eyelids and angular jawlines. In addition, a general cone-shaped face, typified by actress Fan Bingbing, is idealized. Chinese consumers prioritize hydration, whitening effects and sunscreen activity at the top of their list of demands for facial skin care products. It's no surprise that whitening is on the list. Mintel data shows that 36% of Chinese females aged 20-49 have experienced dark spots/pigments in the last six months.
Recent news: Sephora is Heading to South Korea
Japan and South Korea
Japan, meanwhile, favors a small, V-shaped face with large eyes. Japanese consumers tend to favor the 4-2-4 cleansing method, which comprises a four-minute oil massage to boost blood circulation and support cleansing and pore clearing, followed by a two-minute skin massage with a cream cleanser, and concluding with two minutes each of rinsing with warm and then cold water.
44% of Thai metro consumers have purchased products to address skin dullness in the last six months.
Both Japan and South Korea have touted V-shaped faces. A range of products have been introduced in the Asia Pacific market to achieve these looks, including the Ya-Man MediLift Mask, which is designed to tighten facial muscles and tone the skin, while the 24K Golden Pulse Beauty Bar vibration massage device reportedly serves to reduce the appearance of pouches and wrinkles around the eyes, lips, forehead and neck. 
Southeast Asia
Southeast Asia in general is beginning to favor bold and unfiltered looks featuring bare skin—or at least the appearance of bare skin—according to Kwek. In addition, the region's consumers face the consequences of rising pollution levels. For instance, Mintel reports that 44% of Thai metro consumers have purchased products to address skin dullness in the last six months. In addition, Thai consumers have begun to embrace (product-derived) glowing tan skin, subverting traditional fair skin ideals.
K-beauty vs J-beauty
J-beauty brands have received an uptick in press in 2018, compared to the K-beauty onslaught of recent years. Jindal noted that J-beauty is less about fun than its Korean counterpart because it is generally grounded in technology, claims and functionality. This makes J-beauty somewhat more transferrable across markets.
Additional reading: Inside the K-beauty Playbook
Meanwhile, K-beauty brands seeking to reach markets in the West must leverage multitasking formulas, streamlined routines, high-quality ingredients, and purpose/solution-driven branding. Where K-beauty has an advantage is in its fun, differentiating personality.
Video: How Do You Glow?
South Korea's ideals have included a fixation on glow, including water glow, sheer glow and honey glow. The country's beauty trends include cloudless skin, referring to a healthy, naturally glowing complexion that is free of blemishes, as well as the yun-gwang makeup look, comprising 3D makeup effects similar to strobing. A typical yun-gwang look might include a base, foundation, highlighter, blusher and eyeshadow for a slight sheen.
The sok-gwang look, on the other hand, features well hydrated and glowing skin. A typical on-trend product is Mamonde's Aqua Glow Ball Base, a roll-on primer that leaves the skin shining lightly while correcting skin imperfections.
Western consumers continue to consider hydration as critical to having healthy, glowing skin.
In the West, particularly North America, consumers are also seeking a glow, as seen in products like Fenty Beauty's Kilowatt Highlighter and Pat McGrath's Skin Fetish, which offer a golden glow and healthy radiance for the skin. Jindal noted that the "glotion" category has taken off, with launches like L'Oréal Paris' True Match Lumi Glotion and Marc Jacobs Beauty's Dew Drop Coconut Gel Highlighter in Fantasy offering consumers the right touch of radiance.
Regional Cross-pollination
Jindal and Kwek noted that translating many of these ideals and trends to the Western market is challenging. The biggest stumbling block is the inclusivity of the Western markets, which are far more diverse ethnically compared to Asian markets.
However, there are opportunities to embrace minimalist, lightweight makeup looks, to adopt devices to pair with skin care products for greater efficacy and to enhance consumers' beauty care rituals with multifunctional products, rather than elongated multi-step routines. As with Asia, Western consumers continue to consider hydration as critical to having healthy, glowing skin.
Asian consumers, meanwhile, are behaving a bit more like their Western counterparts by streamlining their beauty routines. Despite this, many consumers in the region still use as many as seven skin care products.
44% of urban Indonesian consumers report following a basic cleansing-moisturizing routine to prevent skin irritation.
Both Asian and Western markets are likely candidates for personalized skin care products designed around specific locations, climates, seasons and personal skin health characteristics, as well as products designed for portability and single use.
One example cited by the Mintel presenters was Allies of Skin's trio of products attuned to different day parts, including the All-Day Pollution Repair Mask, comprising brigteners, antioxidants and a repair complex, the Molecular Saviour Probiotics Mist for a nourishment refresh for throughout the day and evening, and the Overnight Mask, which offers a detoxifying formulation reportedly designed to sync with the user's sleep cycle.
Multitasking Products Resonate Globally
As even Asian consumers begin to pare down skin care routines, new opportunities are emerging. The Mintel team noted that Chinese women use an average of 6.7 skincare products, while men use 1.7 products. At the same time, 44% of urban Indonesian consumers report following a basic cleansing-moisturizing routine to prevent skin irritation.
Brands around the world are already innovating with multifunctional products, including some shown by Mintel or announced elsewhere, including:
Ettusais Premium Amino Caviar Cream from Japan, which works as a lotion, emulsion, serum, massage cream, cream and makeup primer, according to Mintel
Nivea In-Shower Lotion, which can be used to refresh the face in the morning or evening to remove traces of makeup
True Organic of Sweden's All You Need Is Me organic multipurpose cream designed to protect, soothe, brighten and hydrate the skin
Chanel's Rouge Coco Lip Blush for the Japanese market, which can offer color and hydration to the cheeks and lips
A range of multifunctional products available in the U.S. market, including the Elizabeth Arden Eight Hour Cream for the face, feet, eyebrows and dry hair ends, and Bio-Oil, which can be used to address stretch marks, scars and uneven skin tone, while moisturizing heels and elbows, acting as a hair serum for flyaways and serving as a pre-shave treatment
Naturals: Asian Style
As in other markets, Asia Pacific consumers are increasingly interested in products touting natural claims. According to Mintel data presented by Kwek, botanical/herbal claims comprise 67% of regional shampoos (7% higher than the portion seen in the global market overall), 39% of facial cosmetics (12% higher than the global market) and 25% of lip color products (3% higher than the global market).
90% of Chinese makeup wearers who have eyelash extensions have used mascara in the past six months.
Asia Pacific brands pair natural claims with locally resonant botanical ingredients. Examples include rice milk in a rice milk complex comprising phytic acid, inositol, rice bran extract and more, as seen in Mandom's Barrier Repair Rice Milk Concentrate Cream Moisturizer from Japan; Paul Medison Panthella Skinny Cream from South Korea, featuring Centella asiatica, which offers anti-aging benefits; Dendromium candidum (carrot fern), which offers skin moisturization, as seen in Chinese brand Botaniera; and Filipino skin care brand Pili Ani, which comprises pili and elemi oils as its base.
8 Asia Pacific Beauty Trends
1. K-color
Trending K-beauty makeup looks include glitter eye makeup, matte full lips and water-colored cheeks. As elsewhere, makeup with benefits like hydrating concealers are hot, as are foundations that can be personalized by shade, coverage and moisture level.
2. Beauty Services Market on the Rise
Beauty services are increasingly popular in wider Asia Pacific and elsewhere, said Kwek. According to Mintel data covering January to June 2018, 28% of Chinese female consumers aged 25-29 have done eyebrow/eye line tint in the last six months. In the lash sector, U.S., U.K. and Chinese consumer searches for "lashes" rose 152% on Pinterest, while #lashextensions has generated more than 3.5 million posts on Instagram. 
New report: Lash & Brow Preferences, By Generation
This has created opportunities for products that complement services, such as lash serums. In the West, consumers are seeking out more lash services and upkeep products like Grandelash MD's lash serums and BeautyGarde's oil-free makeup for lash extensions. At the same time, Mintel has reported that 90% of Chinese makeup wearers who have eyelash extensions have used mascara in the past six months.
3. Masks: Face, Neck and Hair Rule
It's nothing new that masks continue to trend, but Kwek noted the category remains strong, led by innovations like bubble masks and lip masks. Facial and neck care masks comprised 77% of mask launches between 2015 and June 2018, according to Mintel data. During the same period, hair masks comprised 7% of new launches, eye care comprised 5%, and foot and lip care comprised 1% each.
4. Propolis
Propolis is trending in Korea and Japan, where the "bee glue" migrated from the oral care and supplement space to beauty. This is in line with the general trend of ingredients leaping from nutrition and supplements to the skin care space. While propolis is far from new, its perceived naturalness is giving the ingredient a new life.
In formulations, propolis can offer wound-healing and skin cell turnover activity, as well as anti-aging and anti-inflammatory activity. Brands comprising propolis include Farmacy Honey Potion Renewing Antioxidant Mask, Epicuren Brazilian Propolis Lotion, Therapi Honey Skincare Rose Otto Propolis + Ultra Radiance Cream, First Aid Beauty Ultra Repair Intensive Lip Balm, Honey Girl Rejuvenating Mask, Julisis Gold Emulsion Day, CNP Laboratory Propolis Energy Ampule, J.ONE Jelly Pack Luminous Mask and LJH Vita-Propolis Serum Ampoule.
5. Brief Body Care Rituals
Kwek and Jindal noted that while consumers in Asia Pacific have elaborate facial skin care routines compared to their Western counterparts, body care rituals are much more minimalistic.
New report: 5 Body Care Trends
Jindal said that most routines typically center around body wash and moisturizer only. That said, skin care beyond the face and neck, specific skin condition solutions and whole-body treatments could create new opportunities for brands to grow the category.
6. For Asia, By Asia
Beyond Korea and Japan, Chinese companies are beginning to create brands that set, rather than follow, trends and are better attuned to local tastes. The same is true for South Korea, of course, and Southeast Asia. This creates new competition for multinational brands. Singapore, meanwhile, is more of an importer of beauty trends, though a wave of indie brands have sprouted up in the market.
7. Diminishing Loyalty
As elsewhere in the world, brand loyalty is on the decline in Asia Pacific. This is where the small batches and emotional founder stories of indie brands can create opportunities. Between the story and personal touchpoints, indie brands have potential in Asia Pacific.
8. Under the Influence
Influencers throughout Asia Pacific have become master livestreamers. Some are celebrities in their own right, posting demos and how tos. At the same time, some influencers in markets like China are launching their own brands, fueled by the interactivity of social media.
One thing is clear: as Asia continues to generate market growth and new innovation, a more nuanced overview of the region is required.