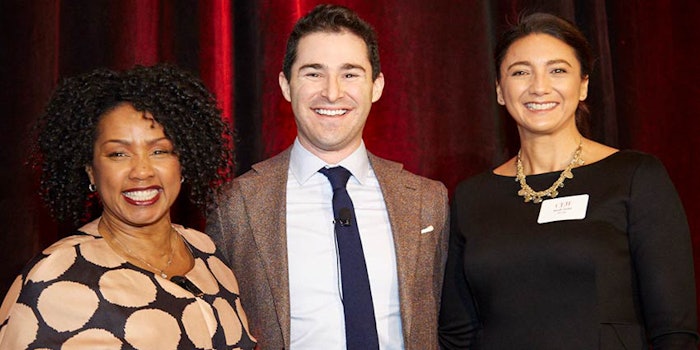 Cosmetic Executive Women's recent Global Trend Report event in New York provided a look at the trends that are reshaping the beauty industry, with expert insights provided by NPD, Mintel and Nielsen. Read the full series here: The Makeup Money Machine, Beauty Gets Well, Where Consumers Shop, Fragrance – Good News/Bad News and What's Working in Skin Care & Hair Care.
In 2016, U.S. beauty sales totaled $24.03 billion, according to Jordan Rost, VP, consumer insights, Nielsen.
Karen Grant, SVP, global beauty industry analyst, NPD, tagged the prestige category at $17 billion, noting that the segment had grown at a steady $1 billion dollar rate since 2012. She added that South America's prestige beauty segment grew 14%, while North America and Europe grew by 7%* and 2%, respectively. Notably, France was the only European market to drop in 2016.
Digging deeper into the data, Rost and Grant unearthed several insights into beauty's changing paradigm.
The top 20 beauty brands declined 0.3% in 2016, compared to 2015.
1. Prestige is King
Grant noted that prestige beauty grew 6% in 2016 (2015: 7%), while mass gained 2% (2015: 2%).
2. December Isn't What It Used To Be
While beauty growth is strong, the dynamics are shifting. In the United States, December prestige beauty sales comprised just 4% of 2016 sales, compared to 9% of total sales in 2014, according to figures provided by Grant. More surprising: December 2016 sales were half of those in 2015.
3. Small Brands on the Rise
Small brands are having a moment. As Grant noted, social media-driven brands are converting consumers far faster than legacy brands.
Rost explained that smaller beauty players are reaching scale faster than ever before, achieving $100 million in sales in record time. Today's indie is tomorrow's multinational disruptor.
Rost added that the top 20 beauty brands declined 0.3% in 2016, compared to 2015, while the top 100 and 200 brands collectively rose 3.2% and 4.5%, respectively.
4. Why They Buy
Grant noted that confidence is less of a beauty purchasing motivator in 2017, compared to previous years. Per NPD research, the top purchase reasons cited by U.S. women are:
78% to look and feel their best
62% to treat themselves
53% to feel confident
*Grant explained that prestige beauty's 7% year-over-year growth in 2016 was faster than other coveted categories such as video games and footwear.