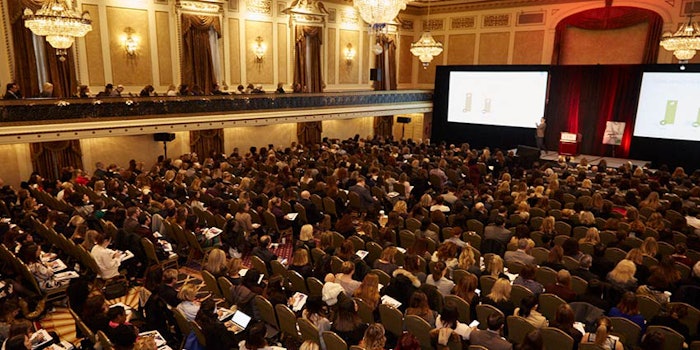 Cosmetic Executive Women's recent Global Trend Report event in New York provided a look at the trends that are reshaping the beauty industry, with expert insights provided by NPD, Mintel and Nielsen. Read the full series here: 4 Ways Industry Paradigms Are Breaking Down, Beauty Gets Well, Where Consumers Shop, Fragrance – Good News/Bad News and What's Working in Skin Care & Hair Care.
Makeup comprises nearly 50% of total beauty sales, said Westly Morris of Mane, highlighting a fundamental shift in the composition of the beauty market, which has traditionally been somewhat evenly divided among makeup, skin care and fragrance. This change in industry dynamics reflects a wider breakdown in the old paradigms.
According to Jordan Rost, VP, consumer insights, Nielsen, cosmetics sales grew 3% in 2016. In December alone, makeup achieved sales of more than $1 billion, said Karen Grant, SVP, global beauty industry analyst, NPD. This represented 42% of women's prestige beauty sales for the month.
Grant noted that the prestige makeup category vastly outgrew mass, rising 12% in 2016. In fact, prestige makeup sales rose 6% in Europe, 13% in North America and 23% in South America, according to NPD figures. Grant added that 76% of total beauty incremental gains and 83% of the volume worldwide in 2016 came from prestige makeup.
Sixty-one percent of U.S. women reported using makeup in 2016.
Some makeup categories grew by as much as 18-34% in 2016, while face, lip and eye products rose by 13%, 13% and 12%, respectively, per NPD data. In lips, the biggest color growth came from nude/brown and mauve.
Sixty-one percent of U.S. women reported using makeup in 2016, said Grant, a gain of 2% since 2014. That's 2.5 million more women using makeup. The category's dynamism has been driven by high launch activity (up 24%, year-over-year in 2016) and gains in fringe categories.
Grant noted the top makeup launch of 2016 in terms of dollar volume sales was Anastasia's Modern Renaissance Eye Shadow Palette (MSRP: $42), which launched last May. Other makeup launches last year that outperformed the market included Urban Decay Vice Lipstick (MSRP: $17.00), Benefit Gimme Brow (MSRP $24), Too Faced Born This Way Naturally Radiant Concealer (MSRP: $28) and Tarte Grav3yardGirl Swamp Queen Eye & Cheek Palette (MSRP: $45). It's notable that the leading brands were indies or previously indie brands.
The Top 5 Makeup Brands for 2016*
Mac
Urban Decay (up from #3 in 2015)
Clinique (down from #2 in 2015)
Lancome
BareMinerals
*NPD