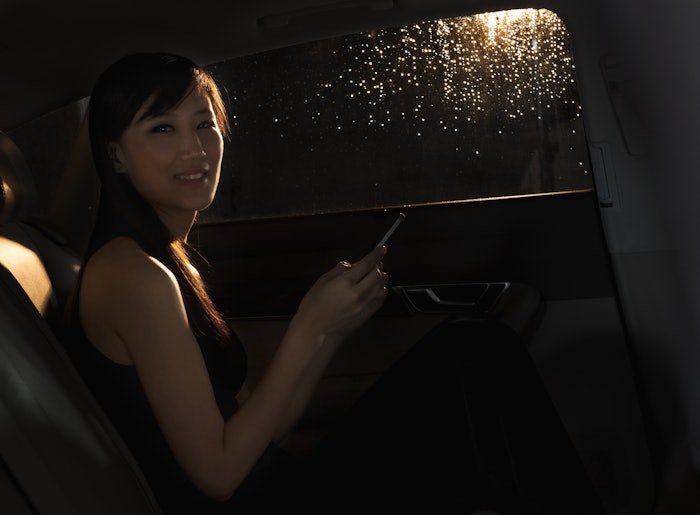 In mid-January 2022, Shiseido decided to sell two of its brands, Za and Pure&Mild, to a beauty brand management group. The deal is expected to close this year. So far, in more than a year, Shiseido has sold 15 mass and cosmetics brands, which further signals that Shiseido is concentrating on more prestige and premium business segments.
The Japanese giant attributed its business growth in China to its high-end brands' growth, according to its annual financial report for 2021. During Singles' Day in November 2021 in China, its prestige segment grew 1.5x. Brands with the most improved rankings included Shiseido, Clé de Peau Beauté and Nars.
Just before the COVID-19 pandemic started, China's demand for luxury beauty had been on the rise. According to CBN Data's statistics, the sales scale of high-end beauty reached 151.8 billion RMB ($24 billion) in 2019, accounting for 51% of total cosmetics retail sales, with market share surpassing that of mass beauty for the first time.
Well-being Driving China's Market
The craze has evolved post-pandemic. If COVID-19 has taught Chinese customers one thing, it is that health is earned rather than given. This is true for both physical well-being, as well as skin health. 
The pandemic has fostered the overall awareness of self-care and shifted the focus to skin care products, as consumers are paying more attention to skin health. Because everyone wears a mask, there are fewer reasons to wear makeup and fewer opportunities to go out.
With China's disposable incomes continuing to rise, high-end and efficacious skin care products are more likely to be recognized for their ingredients and technology, resulting in significant sales growth for high-end beauty products. 
As domestic e-commerce booms and consumer behavior shifts toward health and quality-consciousness, high-quality products are no longer a luxury—they are gradually becoming a necessity.
Indeed, the premium beauty market in China is one of the most promising opportunities today. Premium beauty sales are expected to grow at a compound annual growth rate (CAGR) of 13%, with premium market share further increasing to 53% by 2025, Euromonitor predicts.
Beauty and Cosmetics Leaders Thrive on Premiumization
In the post-pandemic age, competition within the high-end beauty market has become the main focus of major groups' China strategy. High-end brands with more premium space and more robust capabilities to maintain their noble images have gradually become part of the beauty giants' strategy. 
Thanks to robust online shopping among Chinese customers, the Shiseido group saw more than 30% growth in the prestige division on e-commerce over the past year.
In November 2021, Shiseido Group introduced high-end brands The Ginza, Baum and Effectim at the 4th China International Import Expo to make a big splash in the Chinese market.
Aside from this, in L'Oréal's 2021 annual report, its luxe skin care division gained impressive success in China with premium skin care brands Lancôme Absolue and Helena Rubinstein. 
The skin care sector is not the only one benefitting from heightened interest from luxury customers in China. Niche labels like Maison Margiela, Atelier Cologne and Armani Privé that L'Oréal Group carries have achieved remarkable success. 
The French cosmetics conglomerate attributes the surge in luxury perfume to rising appreciation among Chinese customers. L'Oréal Group predicts that this trend will continue to expand by double digits in the following years.
Let us now look at China's domestic players. YSG (YatSen Global), which began with Perfect Diary, an affordable makeup brand, has successively acquired the high-end technology French skin care brand Galenic and the high-end natural SPA brand Eve Lom from the United Kingdom.
In October 2021, the 35-year-old brand, Eve Lom, appointed Chinese actor Yang Yang as its first brand ambassador. Yang boasts colossal influence among Chinese Gen Z consumers, with 56.3 million Weibo followers.
Localizing E-commerce Efforts 
One of the key takeaways from the luxe beauty industry's experience with the pandemic has been that retailers must have an up-to-date and actionable digital strategy. Digitization is another crucial factor in China's expansion.
Beauty brand giants have continued to explore untapped potential and flourish on China's popular e-commerce and social media platforms, including Tmall, JD.com, WeChat and Douyin (Tik Tok). 
Take La Mer, one of the super-premium beauty players embarking on comprehensive digitalization. Chinese customers' passion for high-quality products has led La Mer to take an increasingly creative digital path. The brand debuted its flagship store on Tmall in 2015 and has repeatedly made the best-selling list in the beauty and skin care category. 
In 2019, La Mer was among the first high-end brands to launch on the WeChat mini-program, along with a host of luxury brands, such as Louis Vuitton and Dior.
To further expand brands' sphere of influence in the WeChat ecosystem, brands leverage different social features to reach more customers within WeChat. Estée Lauder deploys WeChat Moments ads to approach potential customers, who then land at the mini-program campaign page to follow its official account and sign up for a product sample.
More than establishing a presence in WeChat, prestige beauty houses tend to unlock the full potential of livestreaming to achieve brand education and sales conversion. La Mer actively hosts live streaming campaigns to capture the digital luxury customers to deliver skin care knowledge and tutorials. 
Whether it's a well-known brand or an emerging brand, working with a top anchor is inescapable in China's beauty market. 
While the top anchors and influencers dominate the livestreaming e-commerce business, brands' self-live streaming sessions have also become a vital core asset among these businesses. In the first week of Taobao's pre-sale on November 11, 2021, Taobao Live recorded Estée Lauder, Lancôme, Helena Rubinstein, L'Oréal, Shiseido, La Mer and other livestreams' turnover surpassed 100 million RMB ($15 million US).
Augustinus Bader has actively sought to gain the attention of increasingly discerning and affluent Chinese consumers. This German luxury skin care brand leverages celebrity power to optimize its digital strategies and recover their China business. Last August, 2021, Augustinus Bader announced that Ruoyun Zhang, an actor currently active in China, would be its skin care spokesman in China. Just this March, singer Xin Liu was appointed as the brand's first hair care ambassador in China.
Gen Z's Appetite for Luxe is Growing
Chinese customers, notably Gen Z, increasingly see skin care as a long-term investment and are willing to spend more money on high-quality goods. Data from Tmall Global reveals an 85% increase in average spending on beauty products among post-90s female consumers. Rising awareness and vertical category surges drive the rapid growth in beauty and cosmetics product consumption.
China's beauty and cosmetics sector has witnessed consecutive growth over the past 10 years. Even during the COVID-19 pandemic, the Chinese female consumer remained a strong force in the e-commerce market; females are more willing to spend money on beauty products.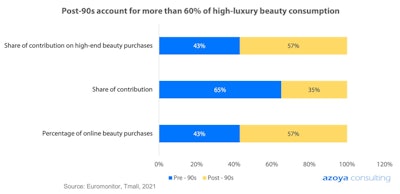 According to research, more than 70% of the high-end luxury brands are consumed by female customers. Take Guerlain, Hélène and Sisley as examples: 90% of their loyal customers are female, according to Netvoice's Luxury Beauty Consumption Trend Report. 
The average Gen Z customer is unmarried and only needs to cover their own bills, allowing them to purchase beauty items they like without feeling pressured, as they don't have to be concerned with price tags.
This younger generation is portrayed as a segment with sophisticated demands for beauty. Gen Z is full of potential in self-care consumption and they are more knowledgeable about collecting product information, increasingly sophisticated at skin care routines and pioneers at discovering new items. 
Before making a purchase, they are willing to gather information from multiple social channels. These young customers enjoy discovering and trying out products from indie brands.
Luxury Perfume's Promising Growth
China's fragrance market revenue is expected to reach 30 billion RMB ($4.7 billion) in 2025, growing by 7.1% year-over-year, Euromonitor estimates. High-end fragrances have become an essential growth engine of the Chinese perfume market, with market share rising from 70% in 2015 to 91% in 2020. 
According to iResearch's China Fragrance Market, 46% of Chinese perfume customers purchase products in the price segment of 401-800 RMB ($63-126), while roughly 23% of customers tend to choose perfume over 1,000 RMB ($157).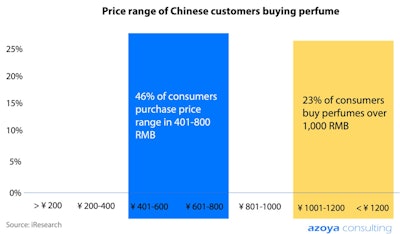 Chinese fragrance shoppers are tapping into niche names. Euromonitor projected that the niche and premium fragrance market in China would increase by 18%. Results from Tmall Global also support this trend: niche brands earned the fastest growth rate, with three-digit growth year-over-year. 
Leading beauty houses have been optimistic about the Chinese market, accelerating their launch of perfume brands in China.
Customers today prefer personalized, intimate and delabeled products, with 45.7% of perfume consumers shifting from mass fragrances to niche designer fragrances, according to China's Fragrance Market Research 2020 from iResearch. Customers' desire for varied scents gives an opportunity for less well-known or niche brands in the market to earn sales and loyalty in China.
Franklin Chu, managing director of Azoya USA, is an expert and speaker in China cross-border e-commerce, where beauty and cosmetics are leading categories. Chu also serves as president of Sage Capital Group Inc. a private equity and global investment management firm and is a graduate of Yale University and Harvard Business School.