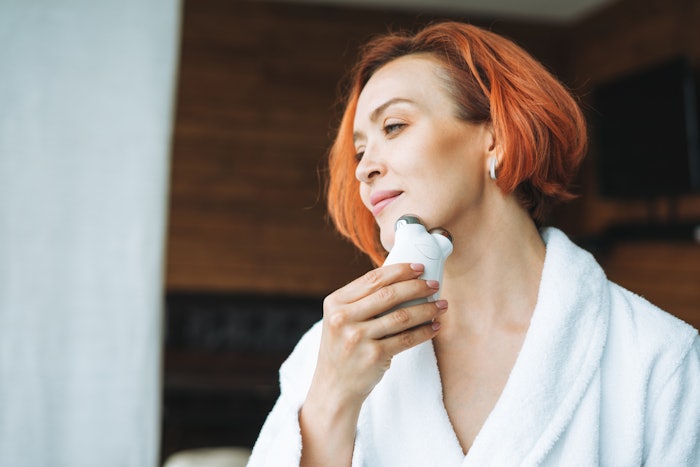 Galina Zhigalova at Adobe Stock
A new report from Kearney, "Beauty and personal care: resetting the stage for M&A," notes that 88% of the 130 senior investment professionals surveyed believe beauty and personal care M&A volume will rise over the next two years. Key drivers will be a consolidation of companies seeking external add-ons and synergies for existing brands/businesses.
For context, in 2019, beauty and personal care M&A peaked at a total transaction valuation of $435 million. This declined somewhat post-pandemic. To compare, for the first half of 2023, transaction values have so far totaled $326 million, signaling strength in the sector. Of these 2023 transactions, 86% had valuations below $100 million.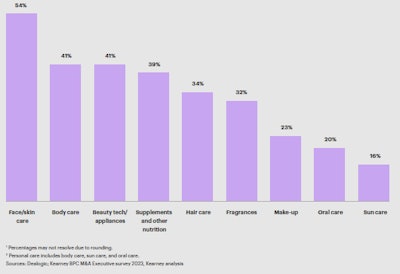 As for the most desirable sectors in the M&A sector moving forward, facial skin care dominates, followed by about equal activity in body care, beauty tech/appliances and supplements/nutrition/ingestibles.
Hair care, while not in the top-most attractive categories, has experienced a skinification boom in deals, expanding from 3% of deal volume in 2018 to 10% in 2023.
Gen Z, which accounts for 30% of beauty and personal care sales, will also drive a focus on non-legacy brands. 
In addition, technology-forward companies with data and analytics capabilities will be highly valued. Notably, DEI-focused brands are primarily attractive in the North American market. 
Other key targets include Chinese companies, as well as those based in North America and Europe. 
That said, "geopolitical tensions" may also make investments in South Korea, Japan and India more attractive. (Already, the beauty industry has experienced heightened regional activity in India.)
In addition, brands struggling financially amid a wave of indie closures may prove attractive, "bargain" acquisitions. This could lead to lower multiples in deals.
Meanwhile, following supply chain issues, respondents expect raw material and packaging suppliers and manufacturers to be increasingly "upstream" integrated via new deals.
While luxury and prestige brands remain most attractive to investors, Kearney reports that "executives expect good momentum across price tiers."
"Given financial market headwinds, the year ahead will undoubtedly present a window of opportunity for experienced acquirers," said Gavin Meschnig, Kearney partner and expert in the beauty and personal care space. "In the current environment, decisions about portfolios will separate the winners from the losers. Leading beauty and personal care players will move decisively to adapt their portfolios in an agile way."
For the full report, visit the Kearney site.