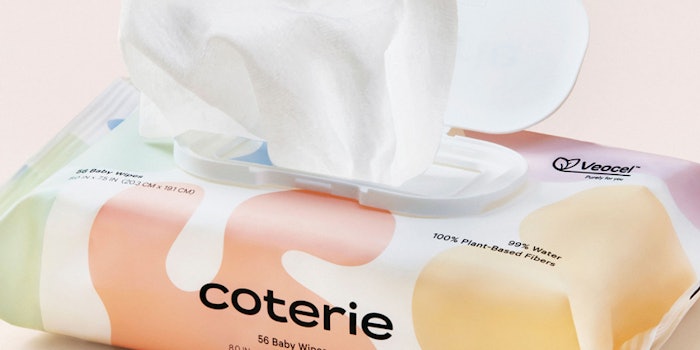 Coterie has announced the launch of its new baby wipe made from 100% plant-based, biodegradable and compostable materials, with raw materials derived from renewable wood sources.
Related: Lenzing Group's Translucent Tech Boosts Sheet Masks
Designed in partnership with the Veocel brand, the Coterie Wipes are made from compostable Veocel branded lyocell fibers. The wipe formulations consist of 99% water and 1% selected ingredients such as vitamin E and glycerin.
Coterie Wipes are reportedly up to 30% bigger than other baby wipes on the U.S. market. They are fully compostable after a few weeks, per the manufacturer, and are certified by the Environmental Working Group (EWG) for chemical safety, the National Eczema Association for gentleness and TÜV-OK Compost HOME for sustainability.
Frank Yu, founder and CEO of Coterie, said, "Let's face it, the process of changing diapers or cleaning up after your baby isn't the most desirable task. Our new wipes make the process simple and efficient, all the while being gentle on babies, parents, and the planet. We're on a mission to revitalize the baby-care space while setting new industry standards for performance and sustainability. Our partnership with Veocel is a testament to our continued investment and dedication to sustainable innovation, and we're proud to have designed another high-performing product that provides the perfect combination of effective cleaning, enhanced skin health, and efficiency for the environment."
Jürgen Eizinger, vice president of global nonwovens business at Lenzing AG, said, "To address adverse environmental impact brought about by the diapering industry, transparency around raw materials used in wipes is one of the key measures to ensure that consumers make informed choices about product ingredient and disposal. We at Veocel are dedicated to empowering the industry with materials that can build a more environmentally friendly future together. We hope that our collaboration with Coterie will encourage consumers to take another step towards committing to a more sustainable world for our kids."