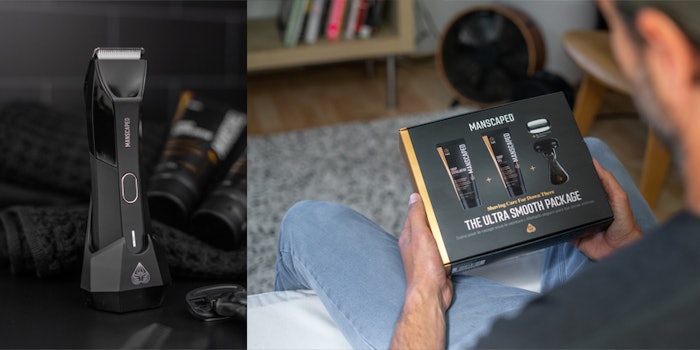 Manscaped has announced the launch of two new products: The Lawn Mower 4.0 Below-the-Waist Trimmer and Ultra Smooth Package Groin Shaving System, debuting on May 5, 2021.
Related: Old Spice Opens Flagship Barbershop
The Lawn Mower 4.0 is its fourth generation below-the-waist electric trimmer. 
Features include:
Proprietary SkinSafe technology said to prevent nicks, snags, and tugs

A 7,000 RPM motor with QuietStroke technology

Rechargeable 600mA ion battery

Waterproof design


Wireless charging system uses electromagnetic induction 

A 4000k LED spotlight with diffuser

Ceramic blade to reduce grooming accidents

Adjustable trimming guard sizes one-four, with 3, 6, 10 or 13 mm settings

Two-toned black finish
The second launch is the Ultra Smooth Package, designed for those who want to go bald below-the-waist.
The three-piece kit contains:
The Crop Shaver Groin Razor: Its first close-shave razor made specifically for below-the-waist. The three-blade razor includes extra-wide lubricating strips and a pivoting head and comes with six replacement blades and a storage case

Crop Gel Ball Shaving Gel: This clear shaving gel features a blend of four essential oils: coconut, tea tree, jojoba, and grapeseed

Crop Exfoliator Ball Exfoliator: A pre-shave exfoliator