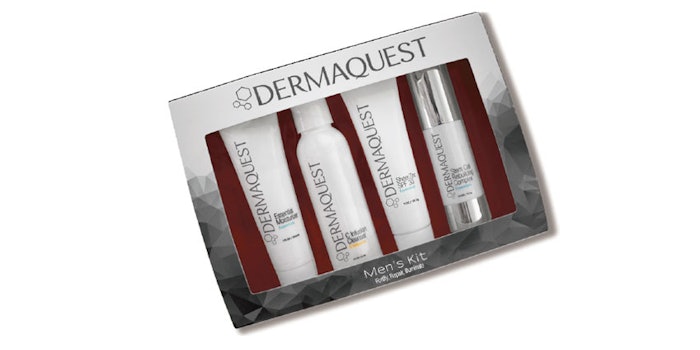 Dermaquest has announced the launch of its new Men's Kit, retailing for $80.
The kit contains C Infusion Cleanser (2 oz), Stem Cell Rebuilding Complex serum (0.5 oz), Essential Moisturizer (1 oz) and SheerZinc sunscreen (1 oz) and is meant to be a "convenient takeaway for an esthetician's male clientele."
The Kit
C Infusion Cleanser is meant to hydrate, purify and preserve the skin's pH balance while slowing free radicals. Key ingredients include tetrahexyldecyl ascorbate (a potent-yet-gentle stable form of vitamin C imbued with orange stem cells) and ascorbic acid.
Stem Cell Rebuilding Complex "awakens" the skin by filling, lifting and plumping fine lines. Key ingredients include Edelweiss. 
Essential Moisturizer refines texture, smooths fine lines and boosts hydration. Key ingredients include the antioxidant CoEnzyme Q10, peptide Matrixyl plus MDI Complex.

SheerZinc SPF 30 protects against UVA and UVB rays while also soothing and brightening the skin. Key ingredients include micronized zinc oxide, Elix-IR and anti-aging Renovage.
Veronica Harris, International Educator for DermaQuest, said, "While serving as an excellent exfoliator, daily shaving exacerbates ingrown hairs and razor bumps. Over the years, skin becomes sensitized, causing it to grow increasingly thicker, darker, and irritated. Guys tend to neglect at-home care's most crucial steps: moisturizer as an instant complexion brightener and morning sunscreen as a barrier for blocking future damage. Balanced skin is the gateway to enduringly better skin."