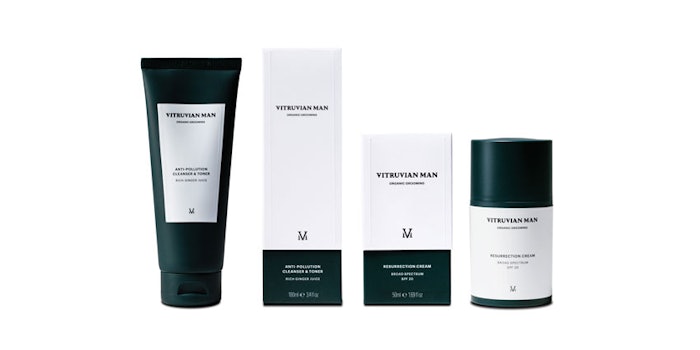 Vitruvian Man, an organic men's grooming brand recently launched in the U.K., is reportedly tailor-made for today's man. 
According to the brand, its products' ingredients and skin care solutions rely on powerful natural elements, blended with essential oils to calm and refresh skin and senses.
The Anti-Pollution Cleanser and Toner is meant to protect the skin against urban pollution. The cleanser's gel formula is PH-balanced and aims to regenerate damaged cells while deeply cleansing without dehydrating skin. Ingredients include organic coconut to remove dirt and grease while pressed ginger root and nut grass root juices combat dryness. 
The Resurrection Moisturizer with SPF 20 is an oil-free moisturizing cream with broad-spectrum sun protection. The moisturizer contains vitamin E and hyaluronic acid, both of which are meant to restore skin's vitality and radiance. In addition to blocking the sun's rays, the moisturizer was created to build up the skin's natural resilience against environmental elements. 

Vitruvian Man donates 3% of all its profits to charities committed to improving mental health and wellness.