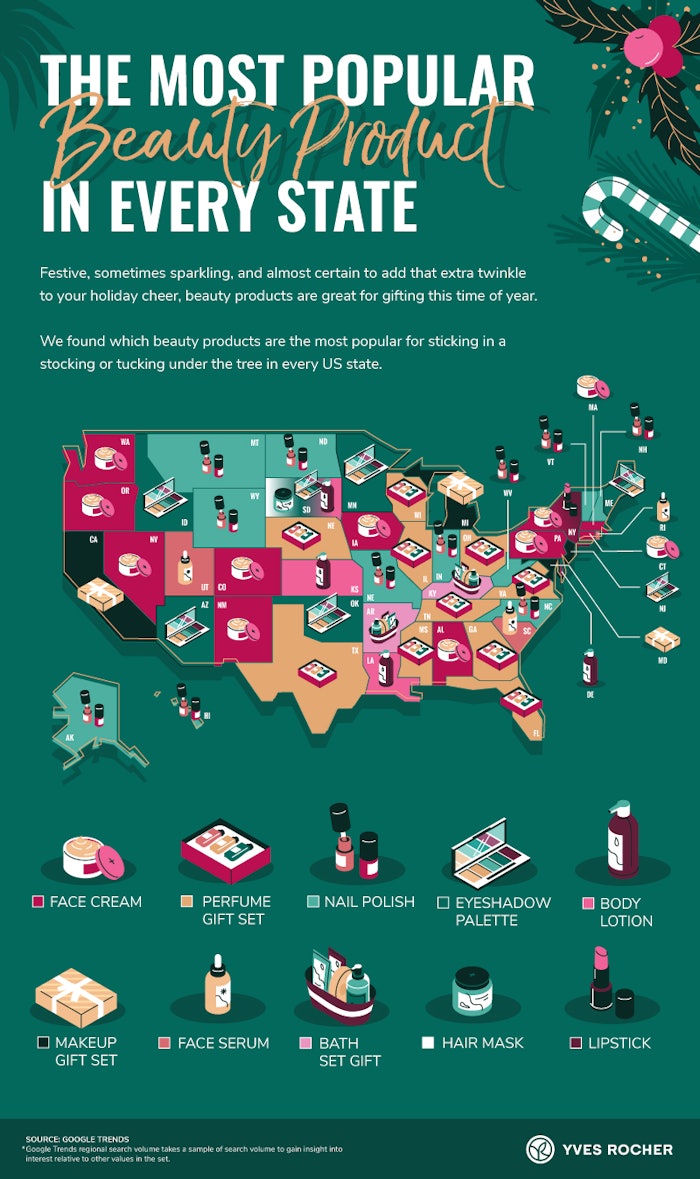 Yves Rocher has released its analysis of the top beauty products that consumers want in each U.S. state and Canadian province based on Google Trends data from 2020.
Yves Rocher researched internally to highlight 10 select and popular products to research: Lipstick, eyeshadow palettes, face cream, face serum, perfume gift sets, makeup gift set, body lotion, bath set gifts, hair mask, and nail polish.
Using Google Trends regional data, they searched each beauty product and pulled the numbers to understand which states or provinces search more frequently than the others for each product.    
In the United States, perfume gift sets, face cream and nail polish showed up with the highest interest.     
The data is highlighted below:
Canadian Provinces
Alberta, Face serum
British Columbia, Perfume Gift Set
Manitoba, Eyeshadow Palette
New Brunswick, Face serum
Newfoundland and Labrador, Eyeshadow Palette
Nova Scotia, Body Lotion
Ontario, Makeup Gift Set
Prince Edward Island, Lipstick
Quebec, Face Cream
Saskatchewan, Body Lotion
United States
Alabama, Face Cream
Alaska, Nail Polish
Arizona, Eyeshadow Palette
Arkansas, Bath Set Gift
California, Makeup Gift Set
Colorado, Face Cream
Connecticut, Face Cream
Delaware, Body Lotion
District of Columbia, Eyeshadow Palette
Florida, Perfume Gift Set
Georgia, Perfume Gift Set
Hawaii, Nail Polish
Idaho, Eyeshadow Palette
Illinois, Perfume Gift Set
Indiana, Nail Polish
Iowa, Face Cream
Kansas, Body Lotion
Kentucky, Bath Set Gift
Louisiana, Body Lotion
Maine, Eyeshadow Palette
Maryland, Makeup Gift Set
Massachusetts, Face Cream
Michigan, Makeup Gift Set
Minnesota, Eyeshadow Palette
Mississippi, Perfume Gift Set
Missouri, Perfume Gift Set
Montana, Nail Polish
Nebraska, Perfume Gift Set
Nevada, Face Cream
New Hampshire, Nail Polish
New Jersey, Makeup Gift Set
New Mexico, Face Cream
New York, Lipstick & Face Cream
North Carolina, Nail Polish
North Dakota, Nail Polish
Ohio, Perfume Gift Set
Oklahoma, Eyeshadow Palette
Oregon, Face Cream
Pennsylvania, Face Cream
Rhode Island, Face serum
South Carolina, Face serum
South Dakota, Eyeshadow Palette, Body Lotion, & Hair Mask
Tennessee, Perfume Gift Set
Texas, Perfume Gift Set
Utah, Face serum
Vermont, Nail Polish
Virginia, Perfume Gift Set
Washington, Face Cream
West Virginia, Nail Polish
Wisconsin, Perfume Gift Set
Wyoming, Nail Polish