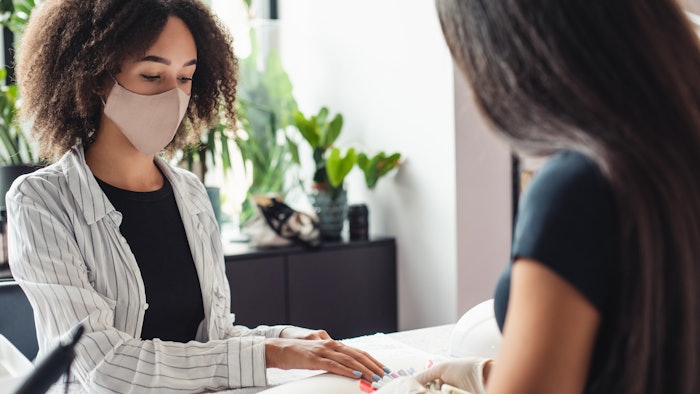 Skai's 2022 trends report analyzed the amount of consumer discussion in beauty to predict what will continue to trend in 2022. The effects of the COVID-19 pandemic are still forefront in beauty, and many popular discussions for 2022 are directly related to changes in habits during the pandemic.
Related: Ulta Beauty's 2022 Beauty Trends 
Acne, specifically acne caused by long-term mask-wearing, was the biggest skin concern during the COVID-19 pandemic and conversations around it have doubled since then.
Since the beginning of 2021, consumer discussions on aging skin issues have increased: wrinkles and sagging (up 136%), fine lines (up 185%) and general aging (up 125%) are all predicted to continue to trend upwards in 2022.
The COVID-19 pandemic changed consumer shopping habits. Prior to 2020, 85% of all beauty products were purchased in stores. Online sales increased during the pandemic, but it did not offset the overall downward trend. McKinsey's 2021 Global Survey estimates that there will be a 25-35% decline in beauty products in 2021, compared to 2020.
Some beauty segments, including hand soap, hair care and skin care, experienced significant increases in sales. The use of skin care to combat stress is a trending discussion on social media that Skai predicts to maintain popularity in 2022. Brands are marketing products that emphasize de-stressing capabilities.
Bright and cheerful colors are trending upwards, with a 43% increase in bright colors discussion and a 245% increase in reviews referring to high-intensity color. Pink cosmetics had more than 10K mentions in 2021, compared to zero mentions between March and August 2020. Gold shades discussion increased 454% and blue, yellow and green experienced 200% more discussion.
According to Skai, there is also a rising demand for orange, purple, blue and gold, but insufficient inventory in the market.  
In 2021, consumer discussions around long-lasting cosmetics coverage have increased by 41.7% and sunscreen discussion increased 24% since December 2020. Skai attributes the increased discussion to a desire to be outside more after stay-at-home restrictions in 2020.
In 2021, DIY-related discussions decreased 71.6% as more consumers returned to salons and spas.
The demand for sample and travel size beauty products increased significantly, with travel-sized fragrances discussions growing by more than 400% in 2021.
Two beauty packaging trends building momentum are refillable and reusable packaging, with discussions increasing 120% and 152%, respectively.