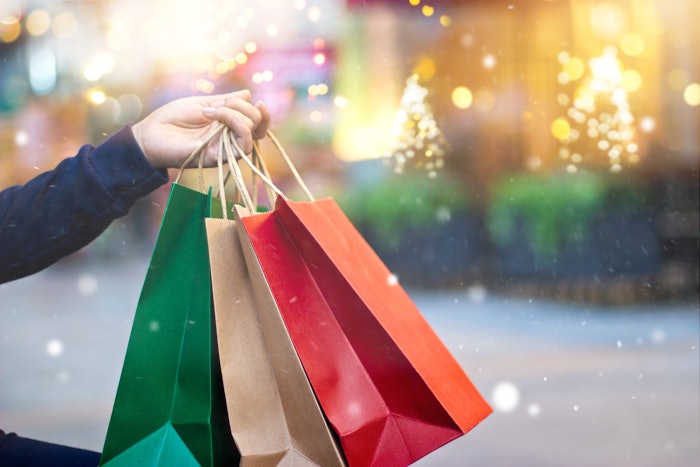 Beautyque NYC released a survey to determine the impact of COVID-19 on holiday shopping this season. According to the 156-person survey, consumers are increasing their holiday budgets this year, shopping online and in-person and buying body care—which was the most-shopped beauty category this holiday season.
Related: Beauty Holiday 2021 Update
The survey included questions about shopping preferences, gift-giving habits and holiday budgets.
The respondents indicated an interest in self-care over glam, with body care edging out makeup as the most shopped for beauty product this holiday season.
Top five beauty segments this holiday season:
Body care (92%)
Makeup (89%)
Skin care (85%)
Hair care (83%)
Nail care (75%)
Consumers are taking advantage of Black Friday, with 75% saying they shopped during Black Friday and 73% indicating most of their holiday shopping was done in November.
Most respondents (63.8%) said they will shop online and in-person this holiday season, while 21.7% said they will stick to online shopping.
The survey reports that 83.6% prefer giving gifts to receiving gifts and 85.5% will be buying gifts for relatives.
Per the survey, 42% of consumers said that 25-50% of their holiday budget will be dedicated to beauty products and 21.7% said that 50-75% of their holiday budget will be dedicated to beauty products. About half of respondents (47.7%) are using a budget under $500, while 38.8% will keep their budget under $1,000. 
Most respondents will keep the same budget as last year, but 29% plan to increase their holiday budget this year.
Beautyque NYC founder and owner Sonia Khemiri, says, "From this survey with have learned a lot about our consumers' holiday shopping plans and that their shopping habits have adjusted to being in pandemic such as more online shopping going on this holiday season. This year's holiday shopping habits definitely adjusted to the pandemic and beauty will definitely be on several consumers' shopping lists this season. By taking these findings into account, businesses can attend to their customers' needs based on their concerns, tastes and inclinations."