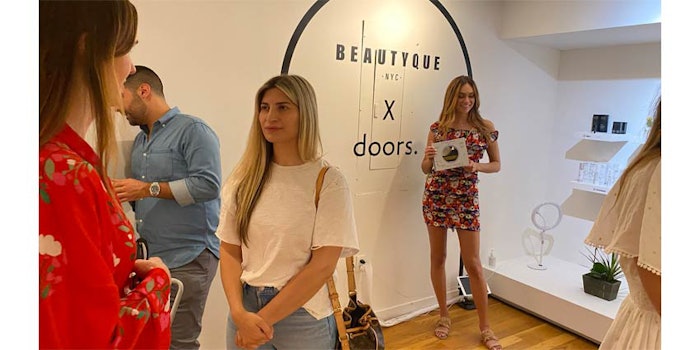 Beautyque NYC will be launching a live pop-up store with Doors.nyc from September 7, 2021, through October 5th, 2021.
Related: Hanahana Beauty Announces New York City Pop-up
The pop-up store will be located in the SoHo neighborhood of New York City. The event follows a one-week live pop-up store collaboration between the two companies in June 2021 that featured a total of 63 brands in fashion, art, and technology, including 15 beauty brands represented by Beautyque.
For this month-long pop-up store, Beautyque NYC organized live events featuring its makeup and skin care brands, including a skin care consultation with an esthetician, a makeup tutorial with a pro makeup artist and a manicure with a professional manicurist.
Typically, Beautyque NYC is a virtual 3D storefront and marketing platform for indie beauty brands.
According to owner and founder of Beautyque NYC Sonia Khemiri, the business was originally intended to be an in-person experience.
"We were originally meant to be a physical store in SoHo, NYC, but when the pandemic hit right as we were negotiating our store lease, we had to rethink our strategy and ended up pivoting to the innovative, fully digital platform we have now," Khemiri said. "Since the launch, we have developed many innovative marketing programs for indie beauty brands, developed many features to enhance the customer experience—all without losing track of my initial mission of becoming a leader in the space that I created."
Khemiri said, "What we noticed throughout this experience is that people are extremely excited to be back in stores, where they're once again able to test beauty products, try on clothes, and shop in a physical space. We also observed many customers connecting with the brands on social media, to stay up to date with upcoming promotions and future purchases. Foot traffic on the streets of SoHo was active—certainly less than before the pandemic, but not far from it!"