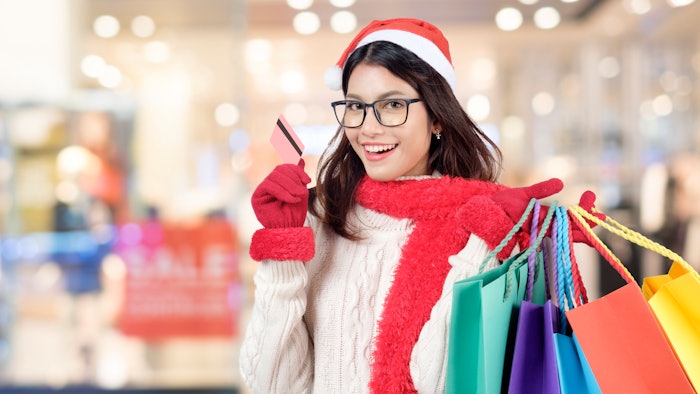 Accenture's 15th Annual Holiday Shopping Survey indicates that consumers are buying more beauty products as they return to social gatherings and pre-pandemic activities. The survey also suggests more consumers want to return to in-person shopping and that eco-conscious shopping habits remain popular with younger generations.
Related: Beautyque NYC: 2021 Holiday Shopping Survey
With an increase in social gatherings, consumers are buying more beauty and personal care products, with 26% of respondents—and 42% of Gen Z respondents—saying they are planning to buy products to dress up and socialize during the holidays.
Holiday Beauty Data
Per the report, 24% of consumers—and 41% of young millennials—said that services that make the most of the shopping experience, like a salon for beauty treatments, could entice them to shop in-store with one retailer over another.
Consumers continue to consider the environmental impact when buying beauty products, with 39% indicating that a cruelty-free product is preferred, compared to 35% who think price or attractive packaging would entice them to buy a beauty product.
A quarter of respondents—and 33% of Gen Z—said they will choose sustainable beauty and personal care products this year.
Consumer Holiday Habits
Per the report, 51% of respondents—and 59% of respondents under 32-years-old—intend to go to parties or restaurants and 44% plan to attend a festive event this holiday season. More than half of respondents (59%) hoped to visit friends and family.
The desire to go out is also affecting shopping habits, with 54%—and 70% of Gen Z respondents—saying they will do most of their holiday shopping in-store. More than half of baby boomers (54%) plan to do most of their shopping online.
Study Demographics
For this year's study, Accenture surveyed 1,515 U.S. consumers online, each of whom had purchased an item for personal use either online or in a store within the previous six months. Respondents were split between gender and across age groups, with 14% Generation Z (aged 18-24), 13% younger millennials (25-31), 14% older millennials (32-39), 22% Generation X (40-55), 21% baby boomers (56-69) and 16% over 70-years-old.
Accenture also conducted a parallel survey of 120 U.S.-based retail executives to explore actions taken by retailers in the run-up to the 2021 holiday season and compare those with consumer expectations. All respondents work at the vice president level or above (42% CEO, 38% SVP or EVP, and 21% VP) for retail companies with annual revenues of at least $1 billion.
Oliver Wright, a senior managing director and head of the consumer goods and services global industry group at Accenture, says, "Beauty and cosmetics brands will be hoping for a strong holiday season as consumers show increasing desire and comfort in returning to pre-pandemic activities. Given that consumer demand in beauty is closely linked to being out and about with other people, our findings are especially encouraging. If beauty brands can take a longer view and use this moment as an opportunity to reset their capabilities across the business, they'll be ideally placed to capitalize on returning consumer demand throughout the holidays and beyond."
Jill Standish, a senior managing director and head of the retail global industry group at Accenture, says, "While retailers are welcoming shoppers back in-store, the events of the past year are likely to affect the spending habits of different generations of people this holiday season. Younger generations, more than anyone, appear to be craving the more social, physically interactive, and fun kind of shopping they can get in-store. The opportunity for retailers and beauty brands is to tap into these behavioral shifts, to get creative and to experiment with new ways of engaging consumers such as beauty tutorials meet-the-expert sessions."