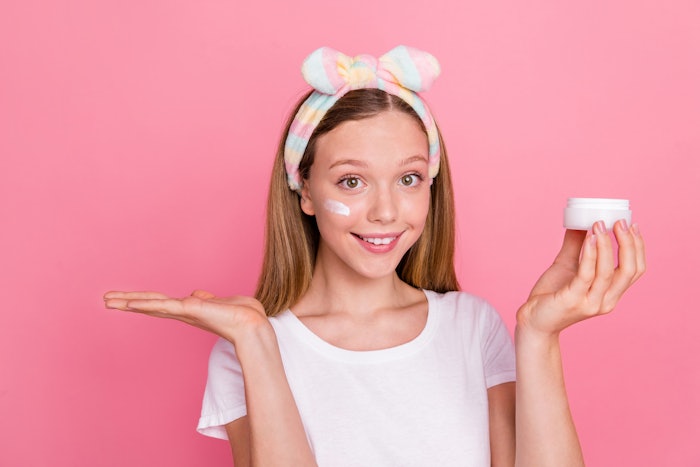 deagreez at Adobe Stock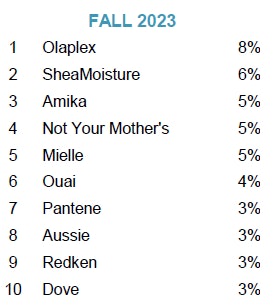 Piper Sandler Companies' 46th semi-annual Taking Stock With Teens survey in partnership with DECA has found that respondents' annual beauty spending now totals $324, with color cosmetics spending alone rising 33% year-over-year. Notably, makeup held the highest priority of beauty spending among teens at $127, the highest level seen since pre-pandemic 2019.
The fall survey was conducted September 4-27, 2023, featuring 9,193 U.S. teens with an average age of 15.7 years. Regional responses were 36% in the south, 29% in the midwest, 21% in the west and 14% in the northeast.
Preferred Shopping Channels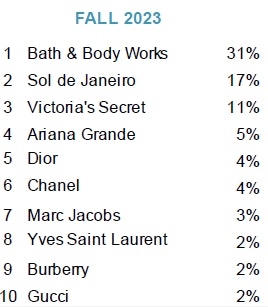 Sephora surged past Ulta Beauty in the latest survey to become the most preferred beauty shopping destination, with a loyalty membership of 67% (Ulta: 60%), per Piper Sandler.
Piper Sandler has a simple explanation for this reversal: the average household income among surveyed teens has reached the highest level seen in five surveys. Because Sephora skews toward higher income consumers, the retailer was able to make a significant jump in teen engagement, year-over-year.
Specialty retail channels for beauty purchases reached the highest level yet, at 79%, while mass/department/drug channels reached a new low of 11%.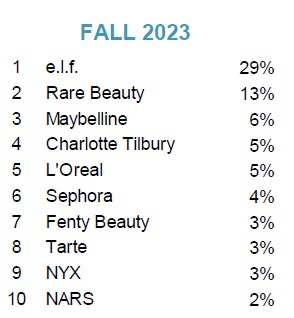 Overall, however, shopping preferences have skyrocketed 545 basis points year-over-year toward off-price stores, while preferences for online-only e-commerce jumped 121 basis points (particularly Amazon, as well as direct-to-consumer fast fashion outlets).
This came at the expense of specialty, discount and outlet channels.
Makeup/Color Cosmetics
As in earlier surveys, e.l.f. Beauty, Inc. was the top cosmetics brand among surveyed teens, increasing 13 points year-over-year to a 29% of females.
pending in the overall category was up 33% year-over-year. Upper income female spending was up 29% in the period.
Skin Care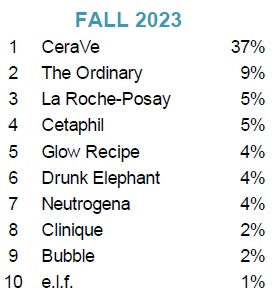 Skin care spending lagged makeup slightly, totaling $122, representing a jump of 19% year-over-year. Spending now stands at 16% higher than the multi-year average, per Piper Sandler. Respondents' top brand was CeraVe, with 37% share of those surveyed.
Fragrance
Teen fragrance spending has jumped 14% year-over-year. Annual fragrance spend now stands at $75, versus $66 in the fall of 2022. High-income teens are spending  a bit less year-over-year, with current annual spending standing at $73.
According to the survey, 72% of surveyed teens noted use fragrance every day, while 23% noted using a fragrance sometimes and 6% reported never using a fragrance.
Hair Care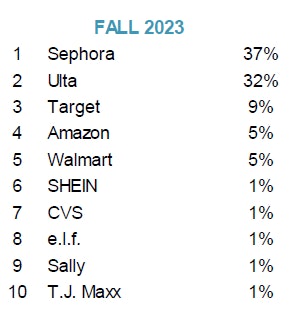 Teen hair care spending rose  5% year-over-year. Annual hair care spending now stands at $96 across all economic groups, while upper-income teens stand at $99/year.
Media Preferences
TikTok is the most preferred social platform (rising significantly since spring 2023), topping Snap and Instagram.
As for online video, teens primarily prefer Netflix and YouTube.