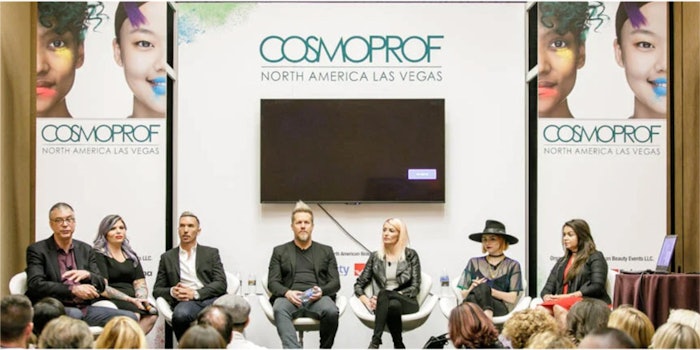 Fashion and beauty bible Women's Wear Daily (WWD), digital content giant Buzzfeed and its beauty arm As/Is and business publications like Entrepreneur and Forbes are just some of the prestigious hosts of this year's Cosmoprof North America educational programs. Robust educational programs have always been a cornerstone of Cosmoprof North America—the place to help beauty brands grow and succeed in the high stakes beauty industry. 2018 will be a record year in terms of value-added programs and sessions aimed to answer questions, inspire and accelerate business.
Global Cosmetic Industry will be hosting a unique panel on corporate accelerators with Founder's Factory and L'Oréal to explore what makes these collaborations so successful and dig deep into the value of nurturing start-ups. Companies like Facebook, Pinterest, Sinclair Broadcast Group, Nordstrom, Barnes and Noble, Hint Water, Mintel, Sally Beauty and QVC/HSN will take part in panels and are poised to offer unique insight and value. Once again, Cosmoprof will offer attendees and exhibitors access to the Entrepreneur Academy—offering a day-long series of workshops, not offered by any other industry event or trade show, focused on everything a brand needs to know to run a beauty business.
For a full list of conference programs, please visit www.cosmoprofnorthamerica.com/education. We've highlighted a few of our favorites below.
Hosted by CEW: "Co-Creation-Stronger, Better Together."
A top-down marketing approach is falling to the wayside as consumer voice and opinion replaces old-school tactics to create winning products. Brands are turning to digital and social platforms to better connect with consumers to understand what they really want from their makeup, skin care and hair care regimens. These partnerships are tapping into consumer product reviews, likes, dislikes and aspirations so brands can produce a product that meets trends as they unfold, and bring them to market in record time. Hear leading digital experts present real-life case studies, how they uncover what consumers crave and how brands ultimately deliver the final goods.
Hosted by The BrainTrust: "If you build it they will come. The Beauty of Digital."
Find out how successful companies attract traffic and the right eyeballs to their site through powerful SEO campaigns. And how affiliate marketing can be a revenue-generating stream that you can easily plug into social media campaigns to monetize online referrals from beauty influencers. Affiliate marketing pros will explain best use and implementation tactics that will reward your affiliated macro influencers, help bring new sales and deliver fresh new leads.
Hosted by NellyRodi: 
SS20 Beauty Trends Presentation.
NellyRodi, an innovation and creativity agency with offices in Paris, Tokyo and New York, will present - as an exclusive to CPNA, their Fall-Winter 2019/2020 beauty trends report "New Beauty Radicalism." Find out how radicalism is disrupting the world of beauty and what trends are shining through as a result. This 30- minute session will offer examples through a diverse lens—from fashion journalism and clean beauty—to the retail experience.
Hosted by Global Cosmetic Industry: Corporate Accelerators: Fast Track to Market—What Every Start-up Should Know. 

Let's face it—in today's beauty market entrepreneurial companies are hot. They're nimble, have a genuine voice and pursue a small market niche with a relentless focus making them truly unique. As such, vision, passion and determination will only take one so far … increasingly large companies are setting up corporate accelerators to nurture startups, aiming to tap into new ideas and technologies. This panel seeks to deconstruct the 'black box' of corporate accelerators to highlight their metrics of success and what makes these collaborations effective for corporations and entrepreneurs alike.
For general information, visit www.cosmoprofnorthamerica.com. Event information and exhibitor updates are also posted on Facebook, Twitter and Instagram (@COSMOPROFNA).