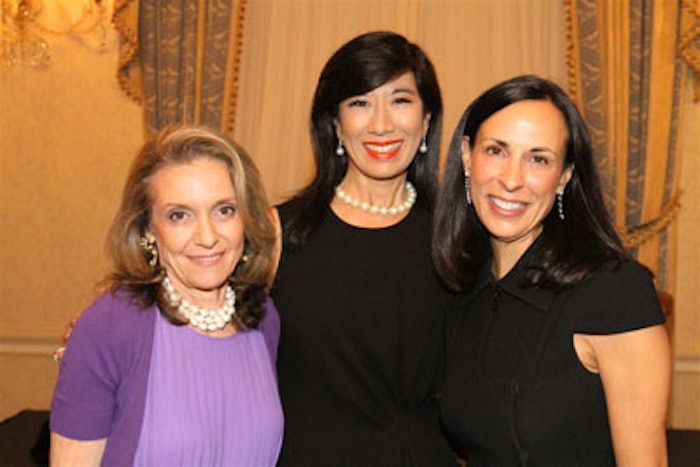 On Wednesday, Sept. 21, 2011, Cosmetic Executive Women hosted a Newsmaker Forum with Andrea Jung, chairman and CEO, Avon Products, Inc., at New York's Harmonie Club. Jung, who reflected on Avon's 125 years and her own commitment to driving the brand's growth, shared Avon's philosophy and business strategies.
A welcome from Carlotta Jacobson, president, CEW, who defined Avon as a company "[that] puts mascara on lashes and food on tables," commended Jung, and Avon, for speaking out for women's rights, breast cancer research and women's financial success. "Andrea Jung has connected the company's success with society's progress," said Jacobson, who acknowledged the company's ability to develop earnings opportunities for women around the world. Jacobson also thanked the sponsors of the event: Prevention, Firmenich, Arcade Marketing, Beauty Inc, WSL/Strategic Retail, Strivectin, Consultancy Media, Kaplow PR and LifeMinute.TV.
Joy Atkinson, vice president, North America, home care, Firmenich, noted that Firmenich had been doing business with Avon for 60 years, and she considers Avon and Jung role models. "Andrea has made a difference for women around the world and has helped them feed their families," said Atkinson. Jung is one of the most recognized women in the world—she received the 2010 Clinton Global Citizen Award for the corporate sector, was ranked #5 on Fortune Magazine's 50 Most Powerful Women in Business, and #2 on the Financial Times' Top Women in World Business list for the second year in a row.
Her commitment to the brand and its outreach for women are hallmarks of the "Do well by doing good," philosophy Jung maintains, which continually works against domestic violence, supports research in breast cancer and maintains the Avon Global Relief Fund.
Celebrating 125 Years
Jill Scalamandre, CEW chairwoman and CMO, Chrysallis, began the discussion acknowledging Avon's 125th Anniversary year, which was celebrated by a 16-country world tour beginning in the U.S. and ending in Johannesburg (for more on Avon's 125 years, read Belief in a Mission: Avon Marks 125 Years). Jung provided highlights of the journey and recalled some of the most compelling moments, noting, "For me, what hit home, was that our founder had this vision to empower women 30 years before they were able to vote. As we traveled around the world, one woman got up in Turkey, and after losing everything in an earthquake, she became a top-selling Avon executive in Turkey. Despite protestations from her husband, she bought her family a home and now says she is one of the only women in Turkey whose husband cooks dinner for her."
Scalamandre noted that Avon is the largest engine in the world for women's financial independence. Jung responded, saying, "We love beauty and we love our brand. The uniqueness of the high-touch channel is what distinguishes it. It really was about selling, but we also sell economic independence for women. The vehicle and the pride is the brand. For millions of women this direct sell environment is empowering. If you look at the last 10 years, direct sale has gained share. With the Internet and other modes of sale, it has somewhat eclipsed the direct sale model, however, high tech has had to marry high-touch."
Jung discussed the ways in which Avon has merged with the Internet world. "Today's Avon lady is not the Avon lady of five years ago. How to make today's Avon a tool to enable the Internet savvy world has been one of the challenges. We have e-tools, a virtual Avon store, and PDFs can be sent out to customers easily. Social media and Internet tools are the new ways to reach followers and fans. We're staying modern and keeping the channel relevant," said Jung. She noted that some shifts can be seen in the age demographic, including the fact that a predominantly young population in Asia is using smart phones to place orders.
"Technology is the biggest enabler. We have examples of countries that are 50% Web enabled. If you incentivize people to do that, you'll get results. We're helping women to change their relationship with the Internet. It's a question of blending and learning. Everyone has to have Web strategies. It's so competitive," said Jung.
Consumer Relationships
In response to a question regarding consumer relationships, Jung noted that the key for direct sale is the relationship. "All consumers shop different channels, and strategies always have to change. We want to continue integrating different channels," she said. Scalamandre, noting that Avon develops 1,000 new products annually, prompted Jung to say, "We are a product innovation machine. There's a lot of alignment. We look at fragrances and skin care, and we look at what the worldwide consumer wants."
"When you talk about the specificity of the channel, a new shade of lipstick is a great door opener. A lot of Avon business is done in combination with direct sale catalogs and customer contact. Our offerings are refreshed every two weeks in the U.S. and every three weeks in other parts of the world. The new products give me a reason to see you," she said.
With 12 years as CEO of Avon, the largest direct selling company in the world, Jung knows what gives the company credibility. Among products, she cited Anew, which she says put the company on the map for innovation and technology. With fragrances, she noted the appeal of authenticity, citing Fergie and Reese, which show the spirit of the brand. Jung also noted that Avon is now an $800 million contributor to the Foundation for Breast Cancer Research and Domestic Violence issues. She affirmed that these causes were the ones that Avon representatives wanted to contribute to, and emphasized the fact that social responsibility and financial independence are key among Avon's mission and goals.
"Not a lot of people have the privilege and challenge of being in this position for this amount of time and for me, it's been a love affair. When you fall in love, you get to ride the highs and see it through the lows," said Jung, recalling that when she was younger she had wanted to join the Peace Corps, but needed to work. Ultimately, it was a collision of needs and ideas, which she has successfully combined in her professional life.
Business and The Future
In response to a question about her toughest moment in business, Jung said, "The path is never smooth. For me, it's getting up and saying, yes, there have been failures and brilliant successes, particularly watching people succeed, and 6.5 million people who have contributed to Avon are huge parts of our success."
She discussed the period during which Avon was experiencing rapid growth, expanding into new markets and needing to restructure. At that time, Jung, encouraged by a mentor, had to look at the company as if it was a completely new company, and needed to address it as if she did not know all the people and teams as she did. "This requires being a different kind of leader. It's an ongoing process," she said.
When asked what she envisions next for herself, Jung said, "I'm just trying to figure out what I'm doing Friday." She further stated, however, "I have been privileged to impact issues and challenges and hope that I will be able to do something like that in the future. As far as Avon, we're still on the journey. I was in Africa a few weeks ago and I'm trying to take that lens to affect socioeconomic progress," she said, noting that Jack Welch, former CEO, General Electric, had advised her to study the demographics of women and changing women's socioeconomic status. "That's where we should be. There are emerging markets, including India, where we want to expand business opportunities, and I believe the Internet will also help us do that. During WWII, Avon was selling war bonds; later came the advent of technology, and other challenges impacted us. We have always had to change the model to keep it relevant," she said.
In closing, Jung addressed questions from the audience, including her thoughts on the power of advisor relationships and advice for young women in business, saying, "Marketing through trust is valuable. Knowing the people you're talking to, using the products, staying engaged. That gives it authenticity. Personal touch and the authentic validation of how a product works is what advisors can provide."
For young women starting out, she offered, "Remember a boss. You'll learn more from mistakes that you don't want to emulate. Stay the course and persevere. If you learn from a tough situation you'll be the better for it," she said, noting that a lot of people can role model after what they don't what to emulate. Finally, "Have a passion for the work. Let that be your compass, and not the clock. Find and have a love affair with your work—life's too short."