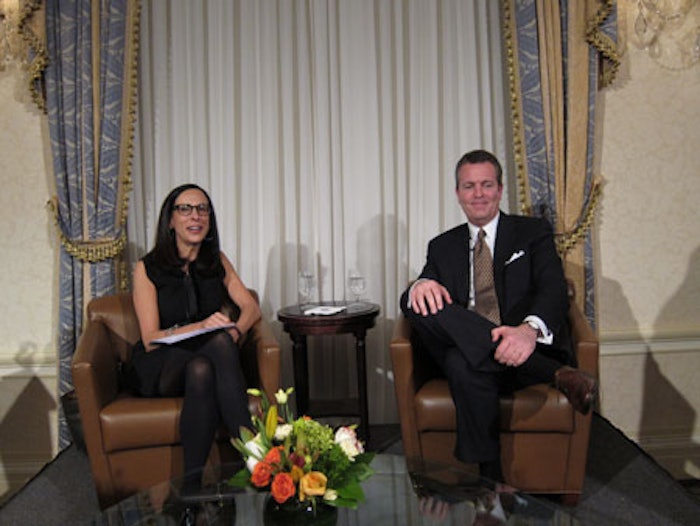 Carlotta Jacobson, president of CEW, promised Chuck Rubin, president and CEO, Ulta Beauty, a full house, and she delivered on that promise. CEW members packed the Harmonie House in New York City on February 16, for the organization's latest Newsmaker Forum, which provided an inside look at the strategies and successes of Ulta Beauty.
A Successful Business Model
Rubin, originally from Boston and currently living in Chicago, has been busy remodeling the Ulta business. Following executive positions at Office Depot and Accenture, he assumed his current position two years ago, and reached double-digit growth for the business while overseeing 20,000 prestige and mass product offerings in 452 stores across the United States—and he plans to reach 1,000 stores.
The Ulta concept allows customers to play with products, from makeup to hair appliances, and includes a loyalty program that is 8.5 million customers strong. Known for thinking big in the beauty business, Rubin said, "As a public company, we honor our customers." 
Combining mass, prestige and salon together under one roof challenges convention, however, the foundation of the company, according to Rubin, is customer focused, which accounts for the diverse product and service offerings. "We are very focused on the customer looking for something unique. A woman can find a broad offering to make her feel good about herself with an array of products and services at Ulta," said Rubin. "We started first and foremost as a company that caters to women who can cross shop across the store. When you put the products and services together, it really gives the woman what we believe she really wants. From Chanel to Maybelline, we are providing this experience for her."
Rubin elaborated, " I actually spent the first 12 years of my career in Boston at Jordan Marsh, and I bought prestige cosmetic brands. These are channels that are very distinct, but we believe it is important to focus on all things beauty and provide an assortment of beauty products that women want, and at the same time also allow her to enjoy herself in a space that is truly unique in retail."
Rubin acknowledges that some of the beauty brands they offer can be bought elsewhere, but that Ulta's strategy is not predicated on price but is based on having a great looking store for women that offers product assortment, as well as events that are fun and enjoyable.
Customer Relationships Are Key
Rubin noted that of the mass products sold at Ulta, most of them tended to be the upper level brands, and he noted that Ulta tailors the experience of the store, including brands and services, to what the customer wants. "We tailor the experience to what the customer wants and also enhance brand equity of the brands we carry. Clearly, the prestige/professional part of our offering is growing more than our mass," said Rubin, who noted that the industry is looking at Ulta as an avenue to reach a consumer. He emphasized, "It's how we select products and provide services. How we do it is more important than the specific products. Through all our products, we are seeing growth and market share growing."
Rubin also noted that newness is a driver for Ulta stores. "The newness is a real engine for growth and is more crucial for today than it was 20 years ago. Our business is not about price, it's a transactional business," said Rubin. He noted that business has been good across the board, with prestige skin care and fragrance all very good. The two main components of the business, said Rubin, are the everyday business and the seasonal gift giving. He added that the mix of skin care, makeup and appliances adds interest, saying, "It's the functional products, as well as the fun products that count. These are what keep women in Iowa locally tied to what's happening in fashion."
When asked if he had had a particular success with a recent brand, Rubin cited the Justin Bieber fragrance. "This was exciting for us because it was new. We had a full size cutout of Justin Bieber in all of our stores and we girls from 8 to women of 65, wanting to pose with the life size cutout. This is an example of what we do, taking a Bieber cutout to give a little excitement to the environment," said Rubin.
The Ulta team is said to be very collaborative and showcases innovation with their product launches. Rubin addressed what key drivers drove their innovation. "Part of our success goes back to the focus on our customer, the offerings and how we present them. That focus is the driving force. We're just under $2 billion in revenue and are very nimble. In the long term, this positions us well with all of our guests and brands. We're straight talkers with good integrity, and we don't beat around the bush, which has done well for the company," said Rubin.
"We rely on brands to help with content. Having been in retail for 30 years, we know that it is important to look at the smile factor. We have 13,000 people working at Ulta, with high satisfaction, and I think we do a good job training our associates. We're continuing to evolve this and one of the key pieces for our success is the investment we make in our people," he said.
E-Commerce
"Our digital business is a small business. We are in a customer-focused time, and I believe digital is just another way to reach our customer. By integrating brick and mortar and e-commerce, that's when the success comes. It is by integrating the various ways to shop. Some customers will shop on line. The idea is to bring the product to life. In the beauty business, especially for Ulta, the experiential nature is very important," he said.
Rubin noted that increasingly customers aged 8-65 are comfortable buying online, and though consumers are still drawn to shop at the brick-and-mortar store, they're also coming in while looking at product reviews on their smart phones. "It's amazing that customers will take the opinions of others they've never met when it comes to product reviews," said Rubin. "I think the greatest opportunity is to create a community for the customer by enhancing the brand, bringing it to life and making the customer feel welcome."
Event sponsors included Prevention, Arcade Marketing, BeautyInc, Dermalogica, Elizabeth Arden, Eucerin, Kaplow, Neutrogena, Nivea, Olay, Strivectin, Tresemmé, Wells Fargo, Indelible and WWD.