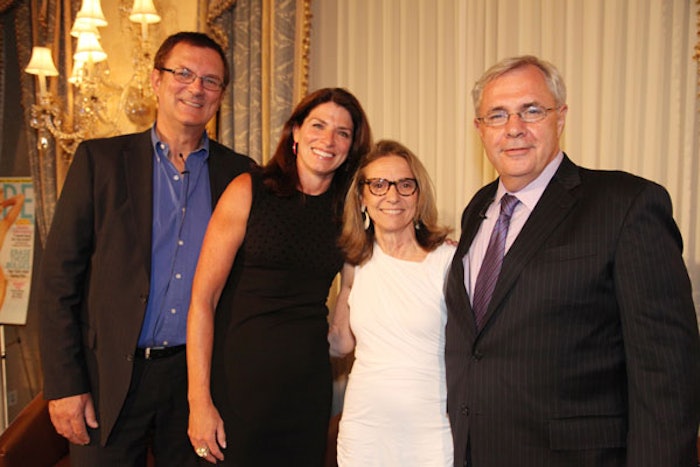 What is the key to creating a top selling fragrance? The subject prompted some surprising responses from the expert panel responsible for the success of Taylor Swift's Wonderstruck. Convened to discuss their strategies at Cosmetic Executive Women's latest Women and Men in Beauty series at New York's Harmonie Club on June 26, 2012, they were welcomed by Carlotta Jacobson, president of CEW, who celebrated an important milestone for the organization, announcing that CEW had exceeded the 5,000 member mark before introducing the evening's panel, Olivier Gillotin, vice president perfumer, Givaudan; Kathy Widmer, executive vice president and CMO, Elizabeth Arden; Ron Rolleston, executive vice president, creative and new business development, Elizabeth Arden; and moderator, Jenny B. Fine, editor, Beauty Inc.
Formula For Success
The presentation, dubbed Formula For Success, highlighted the strategies employed by individuals of diverse professional backgrounds that ultimately coalesced around the success of the Wonderstruck fragrance, a recent phenomenon in the fragrance industry. Among the 1,200 fragrance launches in the last year, only a very few become the standout successes of the year, and perhaps, even become new classics with the possibility of acquiring the status of a top all-time grossing fragrance such as Elizabeth Taylor's White Diamonds, which has garnered the distinction of being the top grossing fragrance over the last five years.
Clearly, the Givaudan/Elizabeth Arden collaboration, conveying the personal touch of Taylor Swift, created a winning formula for this team. Fine began the discussion with a reference to the bullish positioning of Elizabeth Arden, noting its recent acquisition of Justin Bieber fragrances, two weeks ago, admittedly big news in the industry. Widmer said, "Yes, but celebrity fragrance is a tricky business. In this last year the prestige fragrance business grew 13%, and half of that growth came from Justin Bieber and Taylor Swift."
Rolleston concurred, "Looking at Taylor Swift, which contributed 57% of the increase in the fragrance category last year, this is a phenomenon. Taylor came to the Arden offices with her entourage, and we took her to all the offices and introduced her to the brand. She knew what she liked, and the fragrance she liked most was a gourmand floral."
Rolleston continued with descriptions of her role in determining the packaging, saying, "Taylor said she liked one of a kind things; things that sparkled, but not glitter. And she really wanted to do the fragrance. She is remarkably mature, very smart and knows what she likes, and Givaudan and the team brought it together really well," he said.
Rolleston described Swift's notions about fragrance, saying that she believed that perfume takes you back to a place and time, and you can tell a story that connects memories together with perfume. For Taylor, these included the warm, spicy, vanilla, caramel and berry notes that Swift loved for Wonderstruck.
Gillotin agreed, noting that it was key to climb inside her world, understand where she is coming from, her home in Pennsylvania, and her love of fantasy, florals, white berries, and "to capture her youth and exuberance."
"The key to a successful collaboration with a celebrity is to develop a level of trust,"  said Rolleston. "When Taylor came to the office for the first time, she brought her entire entourage, her mom, agent, lawyer and bodyguard. We engaged her in different creative processes to really have her smell so many different fragrances, and we showed her many different bottles. Our entire relationship emerged from our first meeting where we established trust with her,"
Widmer noted the importance of understanding Swift's audience. "The target consumer for Taylor Swift is teens, young women and their moms, and we wanted to find them where they were. Swift now has 35 million followers; when we met she had 20 million, and when she speaks and communicates with her followers, it's in real time. We knew that the fragrance had to be fundamental to the digital world." She added, "If you want to experience Taylor Swift's world, look at her Facebook feed and her tweets. These are most relevant." Widmer noted that it is the same thing with Justin Bieber, who tweets "Night Girls," when he goes to bed at night, and 29,000 girls tweet back.
Clearly, the digital space is an important place for reaching their fan base. "The Wonderstruck team all agreed to go into the digital space with varied programs and keep going. It's so easy to get comfortable, for example, I know how to shoot TV and print, but the digital space keeps changing and you have to keep trying," said Widmer. "Taylor created the experience, and we, as marketers, tried to get into that experience by creating a digital dialogue. This goes beyond celebrity TV. Celebrities have an image they're trying to protect and it's important to find a way to partner with them authentically, and find programs they are happy to endorse, which Taylor was happy to do. This included sampling, or opportunities to see her, as well as videos. She also has a group of super fans, called 'Swifties,' and they want to help her expand her brand. They encourage the sale of her product, endorsing, for example, a Wonderstruck birthday with Sephora, which brings awareness to the brand, and allows everyone to wish her a happy birthday. She doesn't put on a hard sell, but she's selling all the time," said Widmer.
Making a Modern Classic
Gillotin responded to the question of what makes a modern classic, saying, "It's more difficult now, but it can be done. It's a state of mind. You need to know the concept, for example, with Taylor Swift, innocence, country, a positive attitude... and you need to look at unique and special materials with something different."
Rolleston added, "A classic has longevity, for example, Elizabeth Taylor's White Diamonds. Celebrity fragrances can be classics. I wanted to create something that would be beautiful, and her fans would come back to, and I think we did it."
While the celebrity market is glutted, said Fine, Widmer noted the importance of the celebrity's ability to translate their special qualities to their fans to impact the success of their fragrance.
Saying that the number of celebrity fragrance launches in triple digits, Widmer added, "It's tricky. This is a celebrity that has longevity and is loved, but we also look at the celebrity's ability to translate that quality to their intense following of fans. The same is true of Bieber. Some celebrity fragrances stand the test of time and some don't. With the digital space, we get a better understanding of the celebrity."
While the discussion extended to the target audience of the launch, Widmer said that while country fans are a large part of Swift's audience, there is a much wider breadth of fans for Swift. "She is ubiquitous across the world. I'm sure she is adored by country fans, but she's a strong crossover artist."
Rolleston highlighted the packaging part of the fragrance equation, saying, "Taylor's got a six foot birdcage in the living room, and she likes to work with colors that are unexpected. SGD [which was a finalist for a 2012 FiFi Packaging Technology & Delivery Systems award] did a great job with coming up with a magical bottle, and girls love all these little things, like the radiant stars, the dove, and the little charms on the bottle... all making it part of a wonderful story, and letting her fans see the inside of her world through her fragrance."
Sponsors of the event included Givaudan, Mark, 24 Seven Inc., Haute Look, SGD Group North America, Beauty Inc., WWD, Kaplow Communications, Indelible and Shape. 
Both the Bieber and Taylor Swift fragrances are highlighted in Kevin Marshall's Speaking the Language of Beauty feature.